County buys new excavator with help from $100k state grant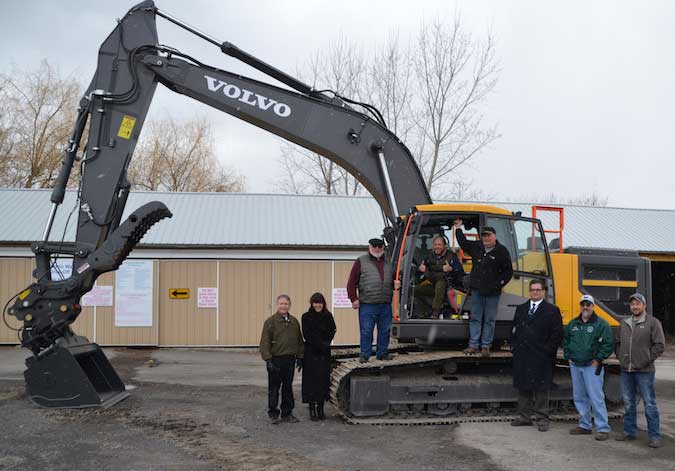 Photos by Tom Rivers
ALBION – The Orleans County Highway Department has a new Crawler Excavator. The machinery arrived last Friday. A $100,000 state grant went towards the $220,000 purchase.
Pictured from left include County Legislator Don Allport, Legislature Chairwoman Lynne Johnson, Legislator Bill Eick, State Assemblyman Steve Hawley, Legislator Fred Miller, County Chief Administrative Officer Chuck Nesbitt, Highway Superintendent Jerry Gray, and Deputy Highway Superintendent Pete Houseknecht.
Hawley directed the funding to the county through the State & Municipal Facilities Capital Program (SAM). Hawley said he picked a project that would benefit residents throughout the county. The new Crawler Excavator will be used for village, town and county highway projects.
The machine can dig trenches, load trucks, lift pipe, and handle attachments, such as hydraulic breakers, shears and grapples.
Houseknecht said it will be used to set rocks by the lake, to help fight flooding. He also expects the highway departments to use the Crawler Excavator to replace pipes and culverts, demo bridges, and assist with many other projects.