County approves sales tax sharing that shifts $8K from villages to towns
ALBION – The Orleans County Legislature has approved the 2022 sales tax apportionment with the 10 towns and four villages in Orleans County.
The annual apportionment shifts some of the sales tax given to the towns and villages. The county divides the village taxable value by the town taxable value to determine the percentages due to the town and village.
If a town's tax base grows at a greater percentage than the village within that town's borders, the town gets more of the sales tax and vice versa. The four towns without a village – Barre, Carlton, Clarendon and Kendall – stay unchanged for a decade because the sales tax apportionment once every 10 years is set based on population. For towns with villages the shares are then modified each year after based on changes in the tax base.
---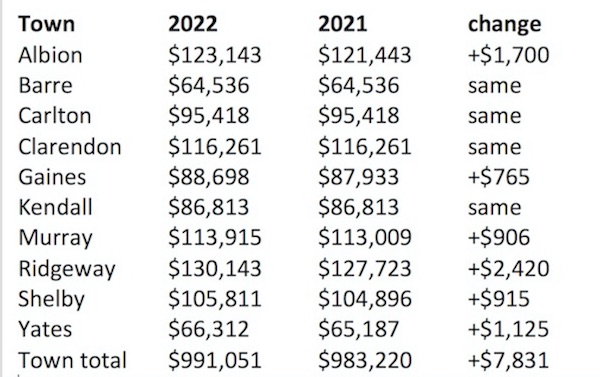 ---
The apportionment in 2021 broke a trend in previous years where the village share grew – at the expense of the towns. But 2022 shifts more sales tax to the towns.
The county receives about $20 million in sales tax annually, and shares $1,366,671 with the four villages and 10 towns. They have been frozen at that level since 2001.
The sales tax has been on a big growth swing the past two years with more online sales tax being captured. This year's growth also is fueled by the higher gas prices.
Once a decade the town and village amounts are set based on local population. However, each year after that the share is modified based on the assessed values of towns with villages.
The villages have seen their share take a hit by nearly $30,000 from 2013 to 2022, falling from $404,661 in 2013 to $375,620 in 2022.
In Albion, the village hit a high of $211,669 in 2004. In 2022, it will receive $165,688, which is $45,981 less than in 2004.
In Holley, the village hit a high of $62,549 in 2002 – 20 years later it's down to $45,051, a cut of $17,498.
Lyndonville was at $18,592 in 2002 and has dropped to $15,243 in 2022.
In Medina, the village received a high of $173,592 in 2002 and will be at $149,638 in 2021, a decline of $23,954.
The county is using some of the local sales tax to pay $290,000 in AIM payments to towns and villages that were funded by the state. The state also takes $190,274 in the county sales tax and diverts it to "financially distressed health facilities."