County adds 'In God We Trust' to legislative chambers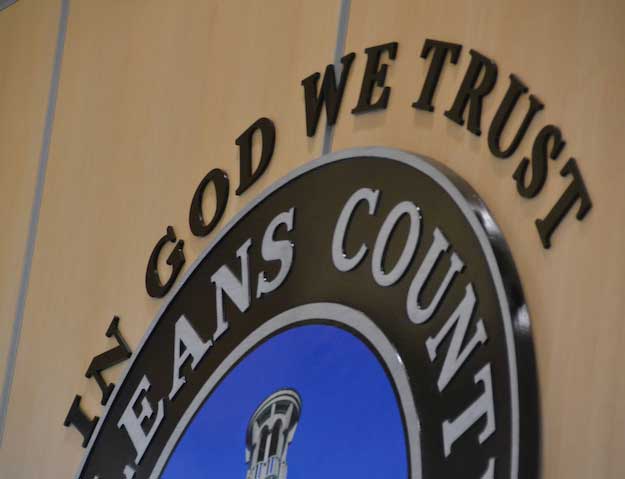 Photos by Tom Rivers
ALBION – The words "In God We Trust" have been added to the legislative chambers for the Orleans County Legislature. The seven-member Legislature voted on Sept. 25 to have the words displayed in the meeting room next to the county seal.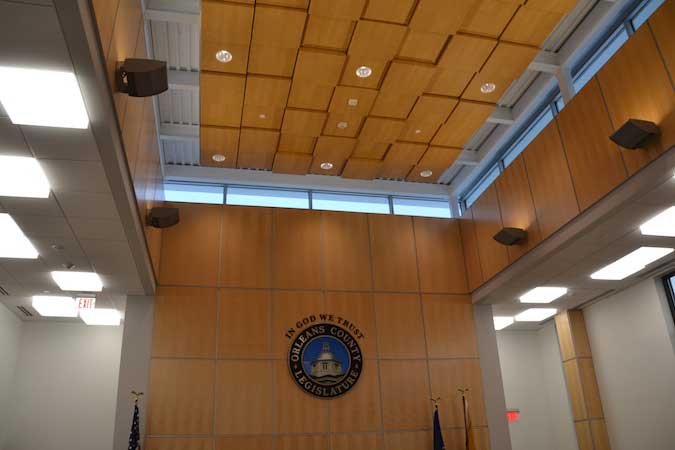 The Legislature has been meeting in the new space since June. The body moved from the County Clerk's Building at Courthouse Square to an addition on the County Administration Building on Route 31.
"Whereas, the County desires to display this patriotic motto in the Legislative Chambers as a way to solemnize public occasions and express confidence in our society," states the Legislature's resolution from Sept. 25.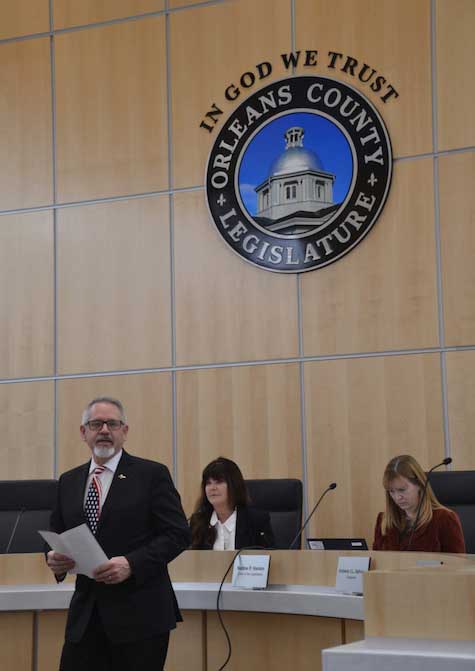 The Rev. Dan Thurber, pastor of the Oak Orchard Assembly of God church on Ridge Road in Medina, led a dedication on Wednesday afternoon for the inscription. Legislature Chairwoman Lynne Johnson, back left, and Nadine Hanlon, clerk of the Legislature, are also pictured.
Thurber noted that "In God We Trust" has been on U.S. currency since 1864 and have been the national motto since July 30, 1956, adopted about a decade after the end of World War II.
The four words also are engraved above the entrance to the Senate Chamber and the speaker's dais in the United States House of Representatives.
"Whereas, in both war and peace, these words have been a profound source of strength and guidance to many generations of Americans," the county resolution states.
Thurber, during his dedication message, referenced Proverbs 3:5-6:
"Trust in the Lord in all your heart and lean not on your own understanding and in all your ways submit to him and he will make your paths straight."
He thanked the county legislators for voting for the display.
"I'm thankful this Legislature so fit to put 'In God We Trust' in these chambers reminding us everyday that it is beyond us, it is beyond ourselves, it is beyond our own capacity. There is someone greater than us."
Click here to see a video of Thurber giving the dedication message and offering a prayer.
Bruce Schmidt of Gaines also thanked the Legislature for displaying "in God We Trust." He said it shouldn't be considered as promoting religion.
"It is a historic artifact," Schmidt said about the four words. "It recognizes religion in our national life and is an expression of patriotism."
---
You're here checking the site, so you know: Orleans Hub is a vital resource for our community. Day in and day out, we share information and insights that matter to those who live and work in the towns, villages and hamlets of our county. Local advertisers help make the Hub possible, and so can you.

Donate today to keep Orleans Hub healthy and accessible to all. Thank you!
---