County accepts bids for building addition topping $7 million
ALBION – Orleans County legislators this afternoon accepted five construction bids totaling $7,006,600 for a 22,000-square-foot addition to the County Administration Building on Route 31.
Alternates for $495,900 push the total bids accepted to $7,502,500. In addition, the county will pay the Wendel firm $900,000 for construction administration, project coordination, additional design services, commissioning services and grant administration.
Construction is expected to start next month and continue for 15 months until the building is ready for the Health Department, Board of Elections, information technology department and the Legislative office and staff.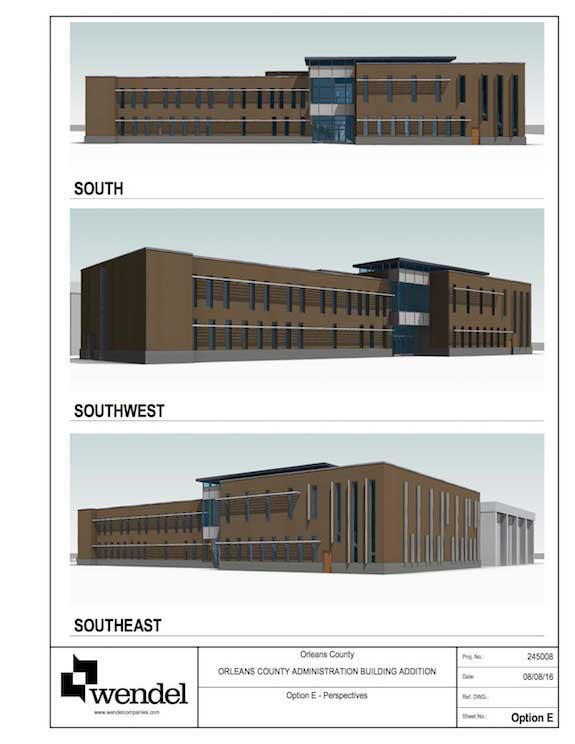 The bids accepted include:
• Holdsworth Klimowski Construction of Victor, general construction, for $4,557,000 (base bid), plus $202,600 for alternates, for $4,759,600 total.
• Michael Ferrauilo Plumbing & Heating of Rochester, HVAC, for $1,034,000 (base bid), plus $83,700 for alternates, for $1,117,700 total.
• Suburban Electric of Albion, electrical, for $1,057,000 (base bid), plus $209,600 in alternates for $1,266,600 total.
• MKS Plumbing Corporation of West Seneca, plumbing, for $273,000 (base bid) with no alternates.
• All State Fire & Security of Buffalo, fire protection, for $85,600 (base bid) with no alternates.
The Legislature also approved a $500 monthly stipend for Chuck Nesbitt, the county's chief administrative officer, for serving as the capital project owner's representative, to be paid from April 1, 2018 to July 31, 2019.
The Legislature said unforeseen circumstances may require change orders in the project. The Legislature authorized Nesbitt to review and approve change orders up to $25,000.
Nesbitt was appointed to Project Oversight Committee with County Legislators Bill Eick and John DeFilipps. That committee will review and be authorized to approve change orders that do not exceed $50,000.
The Legislature has approved a maximum bond of $10,063,881 for an addition the building on Route 31, behind the nursing home. The bond is expected to be significantly reduced from grants for the project. The county has already been approved for a $3,682,748 state grant towards the project and could receive more assistance. State Sen. Robert Ortt also secured a $200,000 state grant for the project.
The Board of Elections and Public Health Department currently are leasing space from Comprehensive Healthcare Management Services. Comprehensive purchased the former county-owned nursing home for $7.8 million in January 2014. The county has been leasing space from Comprehensive for Elections and Public Health because those offices are part of the nursing home complex.
Moving those offices from those sites will spare the county from paying those lease payments. The money the county was paying for the lease will go towards paying the debt for the addition.