Costumed characters revel in Beggar's Night at Medina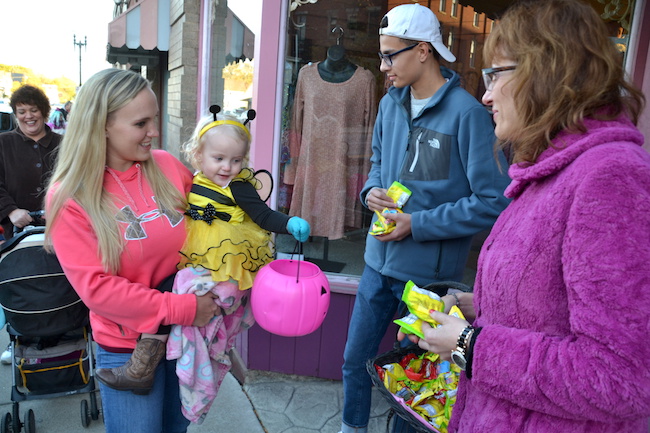 MEDINA – Downtown Medina was invaded by children wearing costumes this evening in the annual Beggar's Night, where merchants hand out candy on the last Friday of October. Many parents and the store owners also dressed up for the occasion.
The top photo shows Lisa Ames of Medina holding her 2-year-old daughter, Abigail, who is dressed as a bumblebee for Beggar's Night, which is organized by the Medina Business Association. They stop for candy at Ashlee's Place with owner Angela Waldriff and her son Tanner.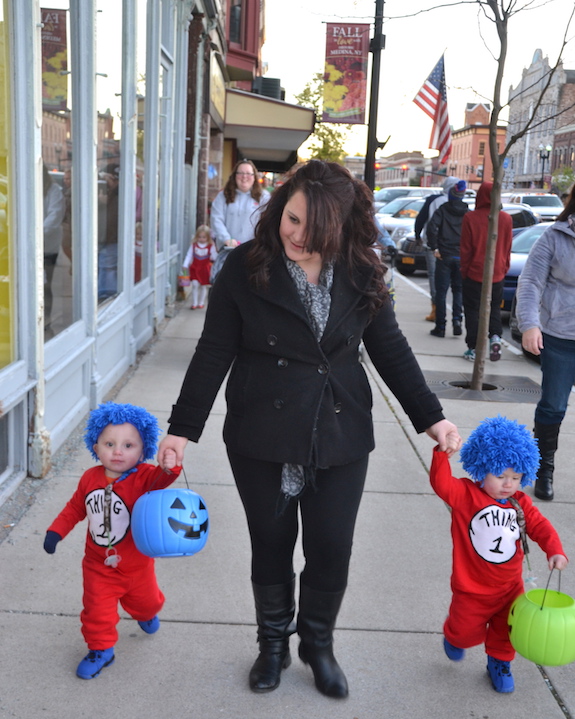 Maria Higgs of Medina walks down a Main Street sidewalk with her twin 19-month-old sons, Lincoln (Thing 2) and Wyatt (Thing 1).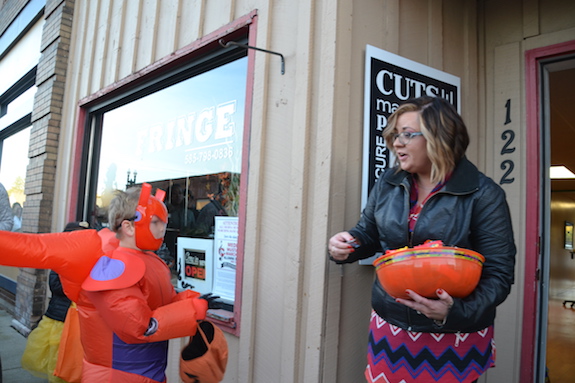 Vanessa Lhommedieu, owner of the Fringe hair salon, was happy to give candy to the throng of costumed characters, including Mason Berry, 5, of Medina, who is dressed as the robot Baymax.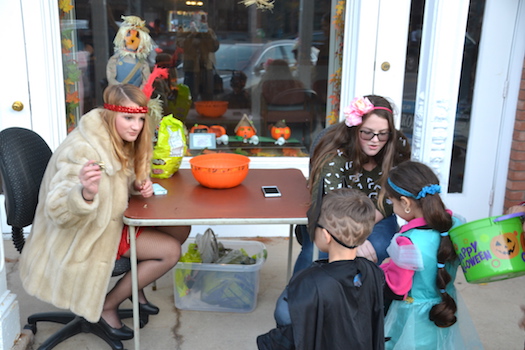 Ashley Woodroe, left, and her friend Lily Kiebala, both 14, dole out treats at Woodroe Realty, which is owned by Ashley's grandmother, Debbie Woodroe.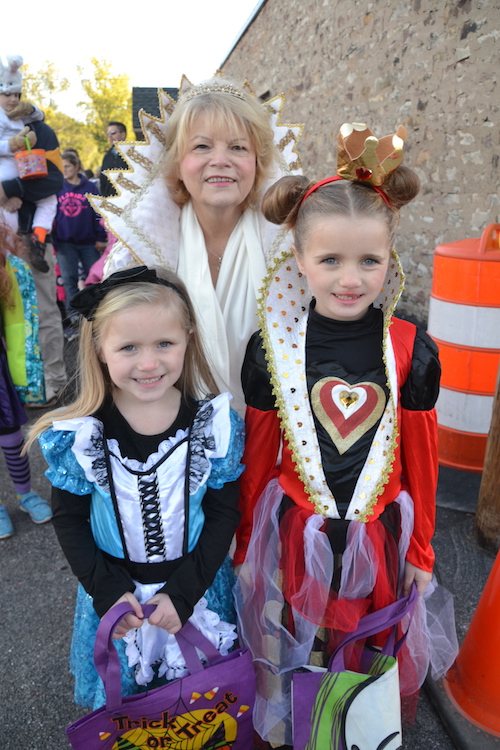 Kathy Blackburn, owner of Meggie Moo's and one of leaders of the medina Business Association, is pictured with the Stalker sisters who showed up an hour early to be first in line. Amelia Slaker (left), 4, is Elsa from Frozen and her her sister Jenelle, 6, is the Queen of Hearts.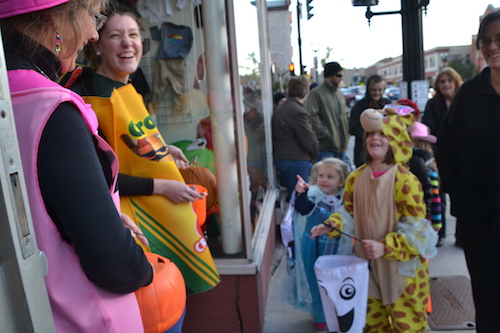 Alana Koneski, left, is a crayon and Sarah Martin is the box for the crayons. Both are employees at Blissett's. They are handing candy to Villette Gary, 8 (giraffe) and Ariane Watts, 3 (Elsa from Frozen). Both girls are from Barker.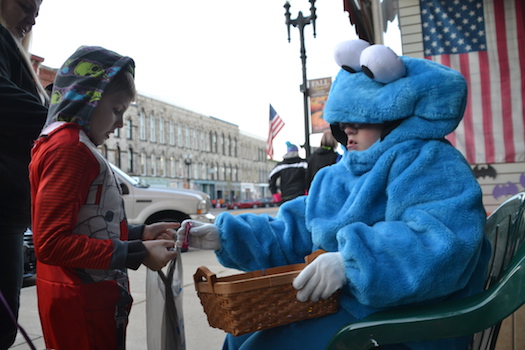 Nicole Tuohey is dressed as the Cookie Monster. She hands out treats at Case-Nic Cookies, which is owned by her mother, Mary Lou Tuohey.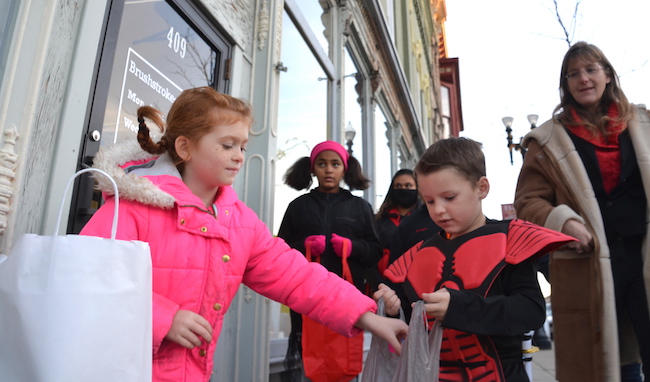 Madelyn Elliott, left, is Pippi Longstocking while handing out on candy to Kayden McGaffick, 6, of Medina. Madelyn's parents, Crystal and Tim, own Brushstrokes.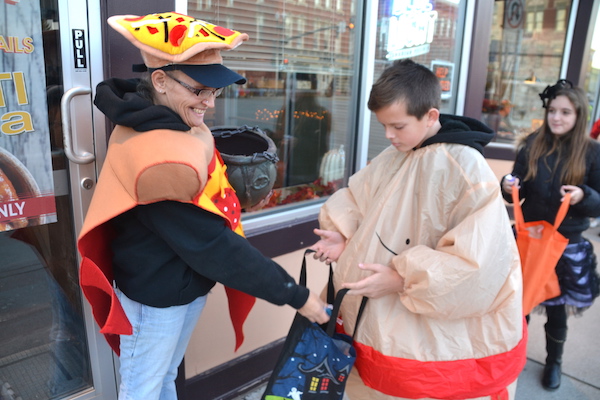 Carrie Ribbeck of Avanti is pressed as a pizza slice. She hands candy to Jacob Rissew, who has on a sumo wrestler costume.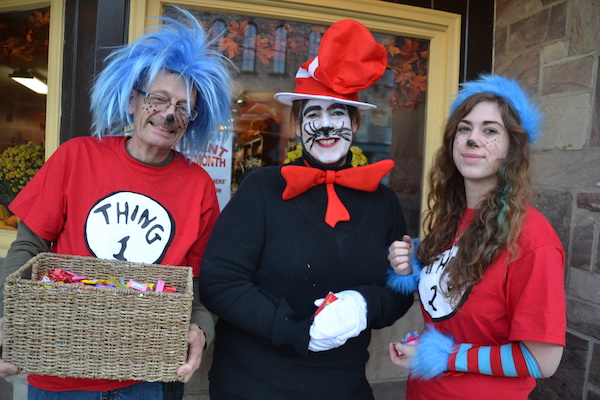 Tom and Bonnie Heck, owners of Herbalty Cottage, are pictured with their daughter, Lindsay Uderitz. They dressed up as characters from The Cat in the Hat.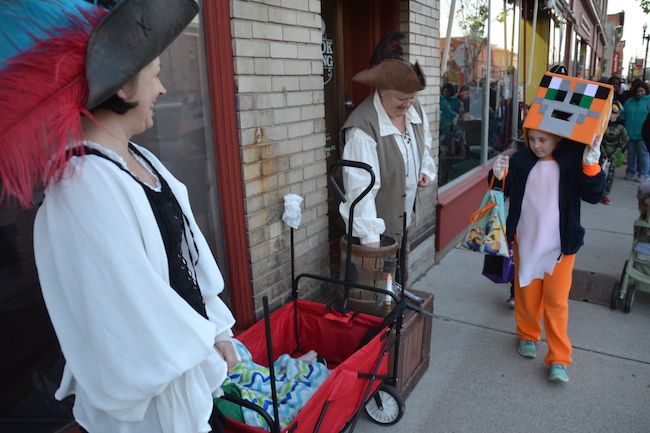 All Inclusive Process had a pirate theme while giving out treats. Kate Tracey, left, is the owner and Cindy Tracey is one of the business's employees. They welcome Gianna Stornelli, 9, of Medina who was dressed up as Stampy from Minecraft.