Correction officer from Orleans picked for 'Valor Award'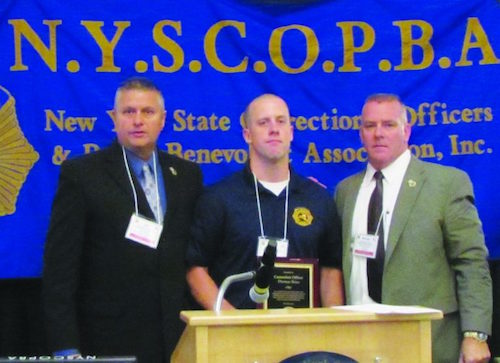 ALBION – A corrections officer from the Orleans Correctional Facility in Albion has been recognized with a "Valor Award" by the state-wide union representing COs.
The New York State Correctional Officers & Police Benevolent Association recognized Tommy Brice. He was pumping gas on May 16 at about 3:15 p.m. at Crosby's gas station in Albion.
He observed a girl, 16, walking past a Rite Aid towards a motel as an older man approached her and appeared to start asking her questions. The girl attempted to walk faster, almost appeared to be running away from the man, whom eventually managed to get in front of her, according to the union.
Brice sensed something wasn't right, drove over and asked the girl if anything was wrong. The girl turned to CO Brice and started to cry. He knew something was wrong and called the police and followed the suspicious man back to his room at the motel until police arrived.
Subsequently, the police entered this man's room and found 4 knives on the bed. The suspect stated to the police that his intent was to abduct the girl, the union said.
These actions display honor and the true meaning of being a peace officer, and that his tour doesn't end when he punches out at 3 p.m., NYSCOPBA said.