Corning 'Hot Shop' part of State Canal's effort to bolster Medina
Canal officials have bigger plans to be part of Medina's dynamic downtown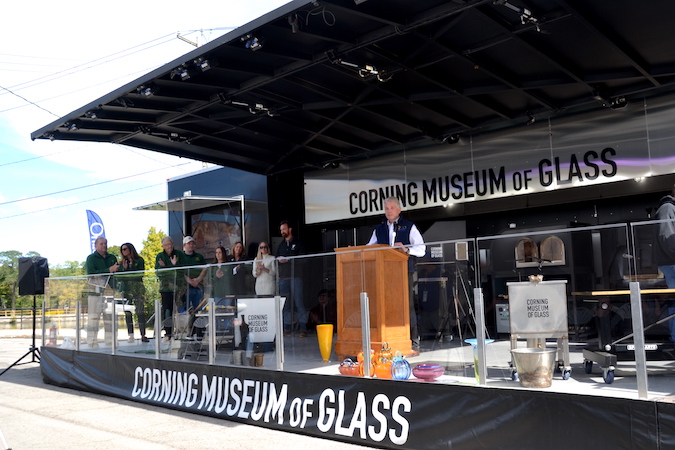 Photos by Tom Rivers
MEDINA – Brian Stratton, state canal commissioner, was in Medina on Friday to promote the Corning Museum of Glass' Mobile Hot Shop, which is in Medina for three days.
About 1,000 people have registered for the hot shop from Thursday through today. Medina is the only stop this fall in the state on the Corning Museum of Glass' Mobile Hot Shop tour.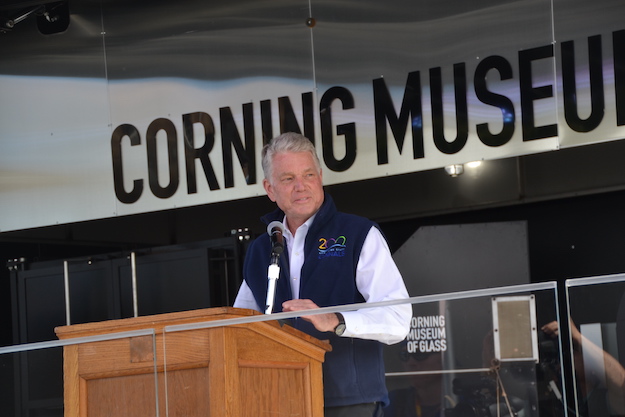 Brian Stratton, state canal commissioner, said the Corning visit in Medina state's Reimagine the Canals, which funds free activities and attractions in canal communities. He noted the Corning hot shop is drawing people from Buffalo and Rochester who will discover other canal communities along the way to Medina.
Reimagine the Canals also funded kayak and hydro-bike excursions in Medina.
Stratton said the Canal Corp. is looking to partner with Medina in bigger projects, including a major art initiative that he said would make Medina an "art hub" along the canal and in upstate. The Canal Corp. has hired Interboro Partners, an architectural and design firm in New York City, to assist with the project in Medina.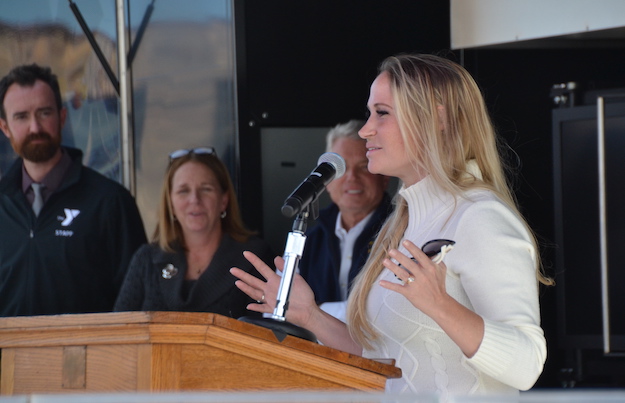 Heather Hungerford, co-owner of the Bent's Opera House, said the Canal Corp's efforts in Medina are appreciated by residents and the business owners, especially as they work to come out of the Covid pandemic.
"This means so much to the businesses in Medina," Hungerford said. "It gives us hope that Medina will continue to grow. Thank you for believing in Medina."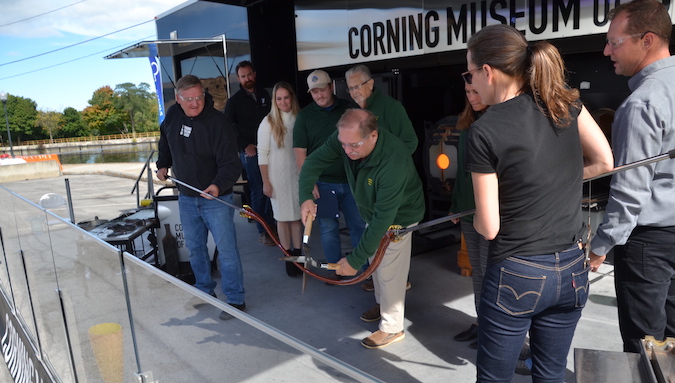 Mayor Mike Sidari cuts a glass ribbon to welcome the Corning Museum of Glass' Mobile Hot Shop to Medina.
Sidari said the community is grateful to be part of the Reimagine the Canals programs. Corning also brought a glass barge to Medina in 2018 with glass-making equipment.
Sidari said the hydrobikes and kayak excursions have brought in hundreds of visitors to Medina who then visit the Main Street shops and other local businesses.
"We are thrilled once again to be partnering with Canals," Sidari said.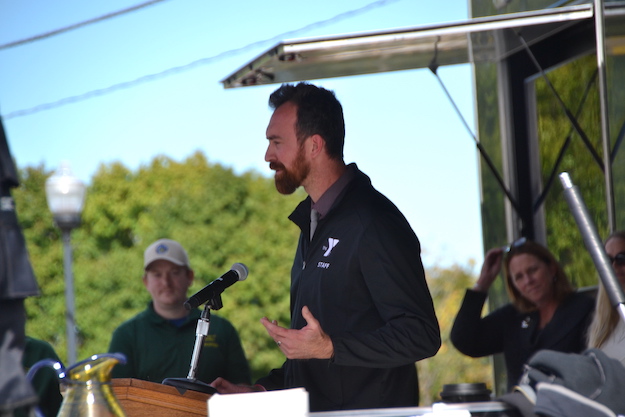 Greg Reed, a district executive with the GLOW YMCA, said the Y in Orleans County is happy to partner with the Canal Corp. in hydro-biking, kayaks and now the hot shop. The Y is facilitating the reservations and helping with the event set up and management. Reed said the Y is looking to partner with the Canal Corp. in other programs, including snow shoeing and fishing.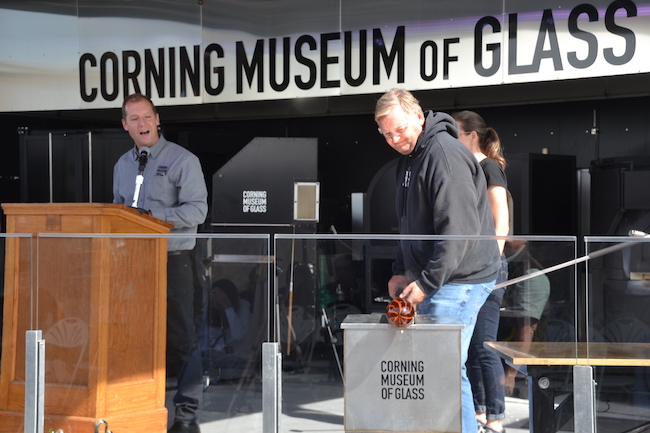 George Kennard, a Corning hot glass artist, works on a creation on Friday. Eric Meek, in back, is Corning's manager of the hot shop.
The Hot Shop uses unique glassmaking equipment to recreate a state-of-the-art studio environment.
Most of the reservations were taken to attend the glass-making demonstrations. For more information on reservations, click here.