Contractors expanding parking lot at Lyndonville school district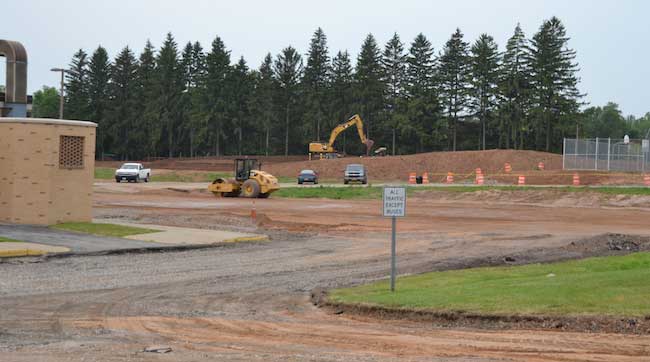 Photos by Tom Rivers
LYNDONVILLE – Contractors are busy this summer with a capital project at the Lyndonville school district, including an expanded parking lot with a separate drop-off from the bus loop.
Lyndonville had a ground-breaking ceremony on Jan. 2 for the $10.7 million capital project. The work was approved by voters, 106-19, on Feb. 13, 2017.
Lyndonville has already completed two components of the project, with a section of a new roof put on in 2017 and new LED lights put in the gym.
This year contractors have been creating two classrooms above the library in the elementary section of the school. In addition to the two new classrooms, there will be mechanical, electrical and plumbing upgrades.
Other work to be done includes:
• Air-conditioning in 95 percent of the school campus
• A revamped and upgraded kitchen, serving and dining area
• Major improvements to the locker rooms