Contractor starts work on first of 7 canal bridges to be rehabbed in Orleans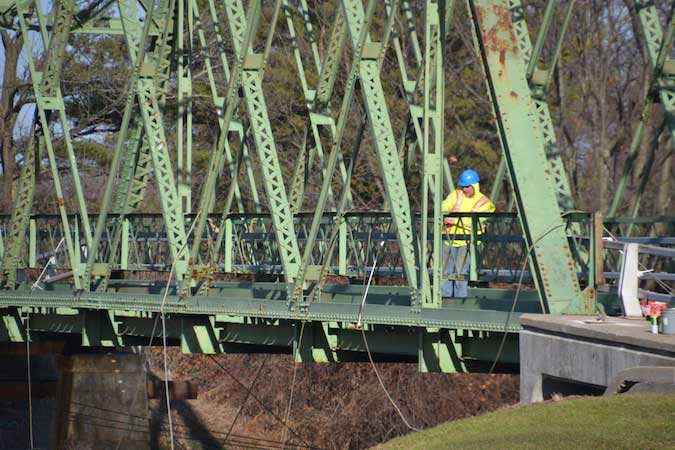 Photos by Tom Rivers
HOLLEY – An employee with Crane-Hogan Structural Systems in Spencerport gets a cable in place on Wednesday on the Bennetts Corners Road bridge over the Erie Canal.
This is the first of seven canal bridges in Orleans County that will be rehabilitated with a new deck and other improvements.
The Bennetts Corners bridge had its weight limit reduced to 4 tons before it was closed on Dec. 3 for the construction project.
The state Department of Transportation announced last month that seven of the canal bridges would receive extensive work with the seventh bridge to be completed in the summer 2020. The Bennetts Corners Road bridge could reopen in about six months.
The state is spending $10.7 million on the seven bridges. Besides Bennetts Corners, other bridges that will be upgraded include: Telegraph Road in the Town of Murray, Transit Road in the Town of Murray, Densmore Road in the Town of Albion, Gaines Basin Road in the Town of Gaines, Bates Road in the Village of Medina, and Marshall Road in the Town of Ridgeway.
The DOT said the work on these bridges will include installing high-strength galvanized steel to replace steel floor systems, low chords, gusset plates, and truss elements. Bridge railing and guide rail on the bridge approaches also will be improved and each bridge will be repainted. The alignments and profiles of the bridges will not change.
The  seven single-lane truss bridges were constructed between 1909 and 1914.