Conservation Field Days give students a chance to learn about many earth-friendly topics
KNOWLESVILLE – Sixth-graders from all five school districts in Orleans County are taking part in the annual Orleans 4-H Conservation Field Days on Wednesday and today.
The event at Orleans County Fairgrounds in Knowlesville brings Cornell Cooperative Extension and many agencies in the community together. It's a hands-on, outdoors event that allows students to interact with professionals and experts from many fields, including environmental conservation, wildlife management, energy conservation, horticulture and water/boating safety with the Orleans County Sheriff's Department.
"The students get a lot out of it," said Orleans County 4-H Program Coordinator Missy Call. "It sticks with them, many people as adults remember their Conservation Field Days experience. It's a great tradition that we are proud to keep going."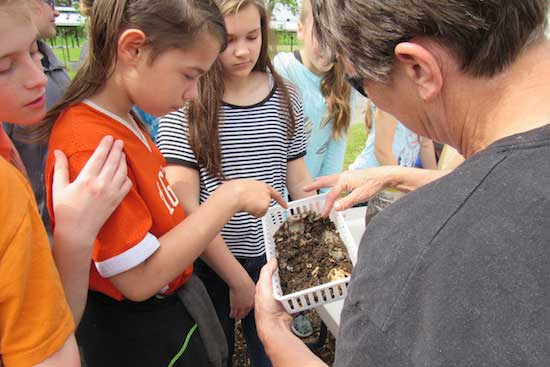 Orleans County Cornell Cooperative Extension Master Gardener Judy Larkin shows students from Lyndonville Central School worms working to compost food scraps. Master Gardeners discussed backyard composting and vermi-composting (worm composting) – which utilizes a worm bin.
Other topics covered by educational stations included a wildlife habitat walk, green power/energy conservation, rabies with the Orleans County Health Department, mammal identification with the U.S. Department of Fish and Wildlife, and Sunrise Bees with information on the importance of honeybees in agricultural production as well as the importance of beekeeping to human survival.
Students from Holley, Lyndonville and Medina Central Schools visited the fairgrounds on Wednesday. Students from Kendall and Albion Central Schools will participate in Conservation Field Days today.