Concrete pad goes in for splash park at Bullard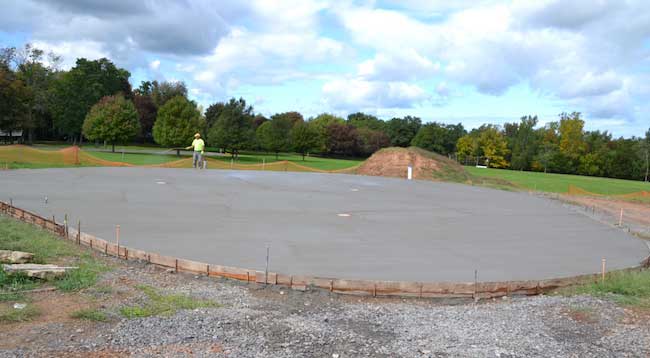 Photos by Tom Rivers
ALBION – Militello Concrete in Buffalo has been at Bullard Park today pouring concrete for the splash pad. This employee is sealing the concrete this afternoon.
Construction on the Bullard Park improvements started in May. The $800,000 project includes a splash park, amphitheater, utility building with bathrooms and a pavilion.
The village is doing about $800,000 worth of upgrades at the park. The village in December 2016 was awarded a $499,605 state grant for Bullard projects.
The village also received $97,500 from the county and $45,000 from the town of Albion, money that was through a revolving-loan fund that needed to be spent for handicapped accessibility at the park. Those funds will be used for sidewalks to the amphitheater and splash pad, to make them accessible to people in a wheelchair.
The Albion DPW is providing $166,370 of in-kind services as part of Albion's local share for the state grant. The DPW took down a pavilion and storage building last fall to make way for the new utility building. The DPW also ran a new sewer line across Route 31 near the Bullard entrance. That sewer line will service the park.
The DPW also ran 600 feet of waterline for the splash pad and utility building, several feet of sewer line, and will be doing the electric service for the amphitheater.
Village crews also hauled stone from Barre Stone Products and moved the concrete sections of the retaining wall for the amphitheater.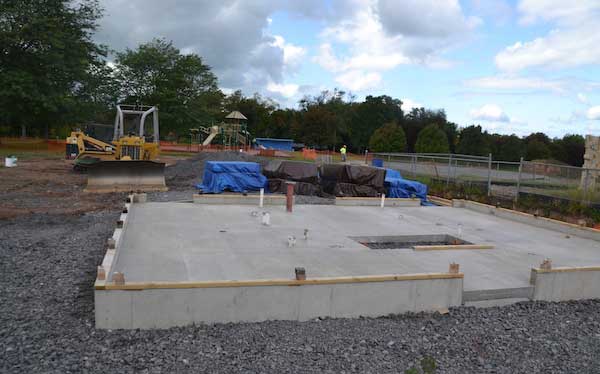 Titan, a construction company from Gasport, is the general contractor on the project and is expected to soon build the utility building, which will include bathrooms, controls for the splash pad and the pavilion.
Next year, a walking trail that is about ¾-mile will be constructed by the perimeter of the park. The new path will be trail base, similar to the canal towpath, said Gary Katsanis, Albion's deputy mayor.
"All the pieces are coming together," Katsanis said today.