Community continues to support Knights-Kaderli Memorial Fund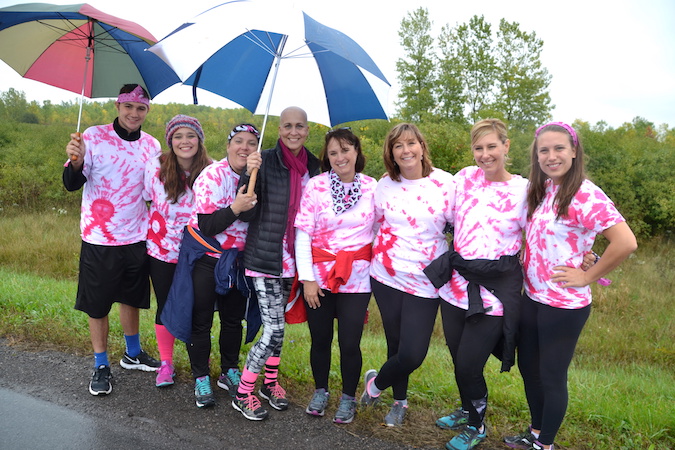 Photos by Tom Rivers
EAST SHELBY – About 200 people walked or ran a 5-kilometer course for the 28th annual event on Saturday to benefit the Knights-Kaderli Memorial Fund. Kelly Schrader Hurrell of Medina, fourth from left, was joined by many friends at the walk.
Hurrell was diagnosed with breast cancer in March. She works for the Job Development Agency for the county. Hurrell's friends wore pink tie-dyed shirts with a pink ribbon. There were at least 30 people wearing those shirts on Saturday, in a nice surprise for Hurrell.
"We just want to support her while she fights cancer," said Patty Carpenter, one of her friends since elementary school.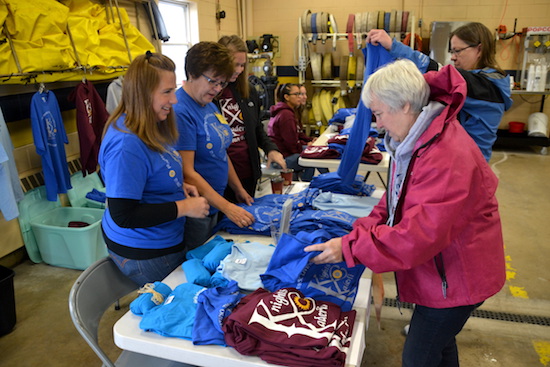 Anita Weese of Medina, left, and Mary Nemcik of Middleport pick out a Knights-Kaderli shirt inside the East Shelby Fire Hall, which has hosted the event since it started. Karen Curtin, left, volunteered along with Mary (Kaderli) Zelazny and Curtin's daughter Kalie Curtin.
Zelazny is one of the leaders of the Knights-Kaderli Memorial Fund. It provides about $50,000 annually to Orleans County residents and their families battling cancer. Knights-Kaderli helps about 50 families a year pay for out-of-pocket expenses, co-pays, transportation and other bills. A recipient must be undergoing a cancer treatment and must be an Orleans County resident. "The money all stays local," Zelazny said.
Knights-Kaderli also tries to connect people with local advocates who have faced cancer. Darlene Rich, a breast cancer survivor, has volunteered as an advocate for the past five-six years. She provides a listening ear and tells people cancer can be beaten.
"Early detection is the key," she said. "When yu have cancer there is hope."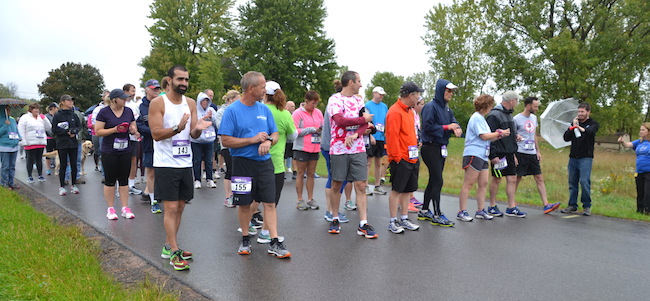 Runners are lined up ready for the start of the race. The were also about 100 gift baskets for a raffle inside the fire hall. The event Saturday typically raises about $20,000 for Knights-Kaderli. A golf tournament in memory of David Millis of Albion also nets about $15,000, while a wine-tasting organized by the Zinkievich family in November raises $10,000.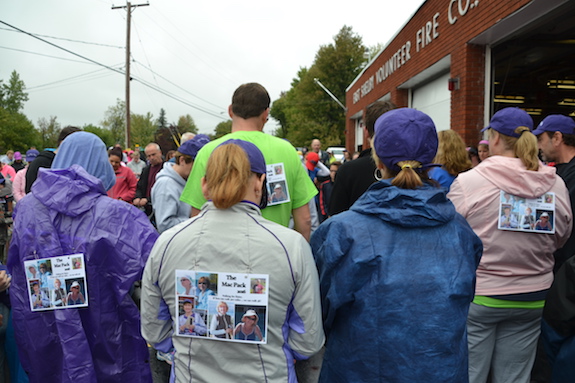 About 50 people formed "The Mac Pack" and walked or ran in memory of Elaine McPherson of Medina who passed away from cancer on Sept. 27. She had been a long-time participant of the Knights-Kaderli annual walk. This photo shows people gathered for prayer before the start of the walk/run.
One of the Mac Pack members includes Tom Dujenski. He will give a talk on Monday to discuss his 500-mile walk along el Camino de Santiago ("The Way of St. James"). Dujenski walked in honor of Paul and Elaine McPherson to benefit the Knights-Kaderli Memorial Fund. His presentation will be 4 p.m. at Holy Family Parish, 100 Eagle St.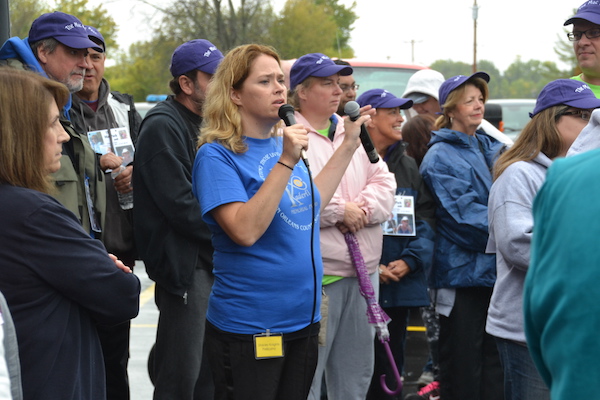 Stacey Knights Pellicano welcomes the walkers and runners. After a drizzly morning, the rain stopped just before the race and walk at 11 a.m.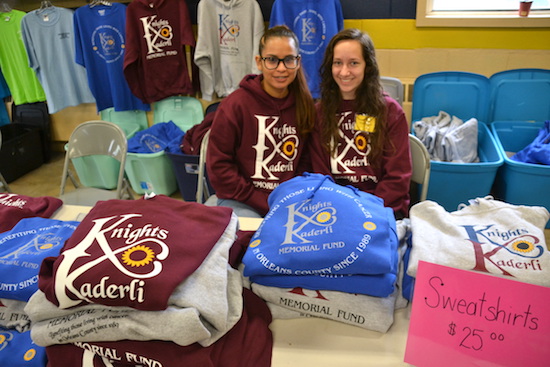 Carolina Ochoa, left, and Sue Sloper volunteered at the table where people could buy sweatshirts. Sloper was named after her grandmother, Sue Kaderli.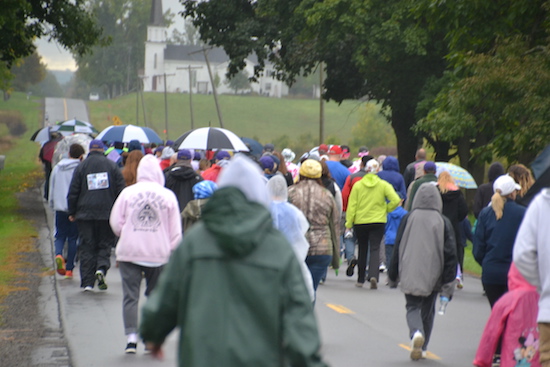 Runners and walkers head down East Shelby Road at the start of Saturday's annual Knights-Kaderli run/walk.
For more on the Knights-Kaderli fund, click here.