Community Center in Holley stays busy serving take-out lunches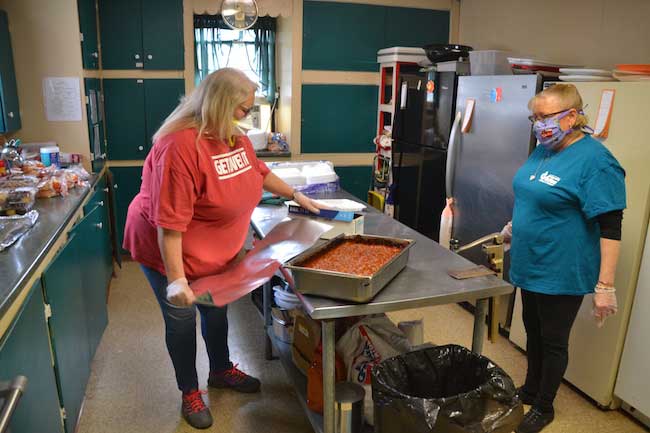 Photos by Tom Rivers
HOLLEY – Rachel Escobar, left, and Debbie Rothmund prepare a pulled pork lunch at the Eastern Orleans Community Center in Holley. The center at 75 Public Square has been serving about 30 take-out lunches each weekday since non-essential businesses were closed by the state on March 22.
Rothmund is director of the center and Escobar has been a volunteer for the past 10 years.
"I just love being here and helping everyone," Escobar said. "I find this is where I belong. I love the people here."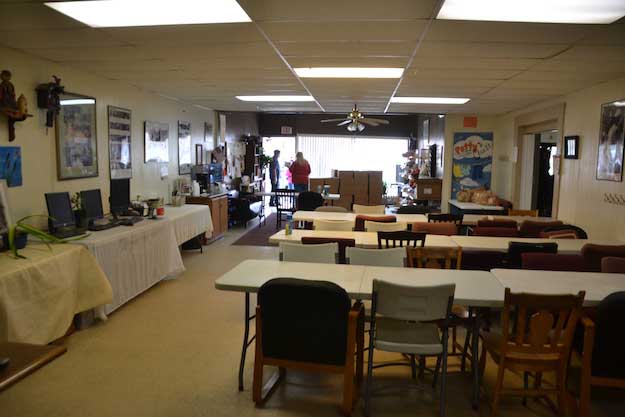 The center is run by Community Action of Orleans & Genesee. The site typically would serve residents in a dining area but that has been off limits to the public for more than a month. The meals are handed off at the front door.
Rothmund has worked at the center for 20 years. When she started there were about 10 regulars who attended the center for lunch. There were about 30 attending more recently, and they would start showing up at 10 a.m. to play cards and Bingo and just to hang out.
Rothmund feels bad that those local residents haven't been able to socialize very much the past six weeks.
"They are so sad," Rothmund said about many of the regulars, who stop by now for a take-out meal at the front door. "They miss being here and seeing their friends."
The center would also bring in speakers to talk about health issues, cooking and other issues. The Health Department also stops by typically once a month to check people's blood pressure.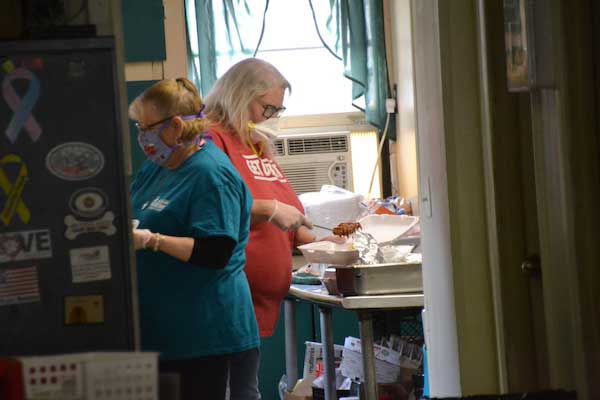 Debbie Rothmund, left, and Rachel Escobar get meals ready  in the kitchen. They also prepared about 170 emergency food boxes in March.
"I've never had that many," Rothmund said. "I'm seeing people I've never seen before."
Rothmund praised the school district for providing meals for many students while the schools buildings are closed to the public. This is now the seventh week the schools have been off-limits. The food from the schools isn't enough for many families, and the Holley center is seeing an increased demand, Rothmund said.
"Many of the people here have found themselves out of work," she said. "They don't have any groceries."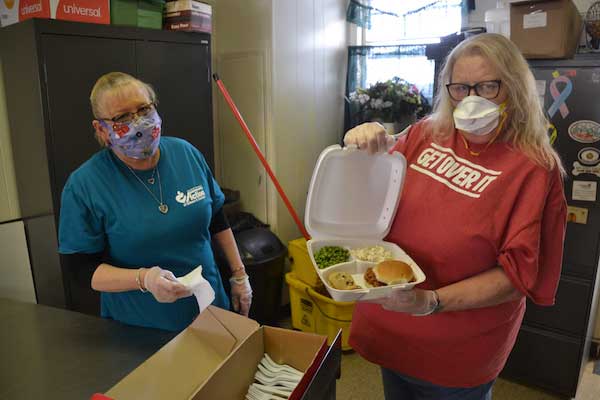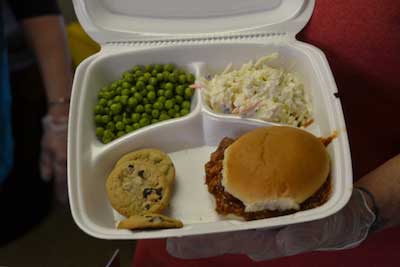 Debbie Rothmund and Rachel Escobar pride themselves on preparing quality meals for the residents. This meal included pulled pork, peas, cole slaw and chocolate chip cookies.
"It's nice to have a home-cooked meal," Rothmund said.
Some people stop by for emergency food, but they don't want to take very much.
The center operates through donations from the residents who stop by, and contributions from the Salvation Army, Foodlink and local churches.
"They tell me somebody else needs it more," Rothmund said. "I tell them we have enough for them and for you. God does provide."