Color Guard units bring passion and pageantry to championships at Medina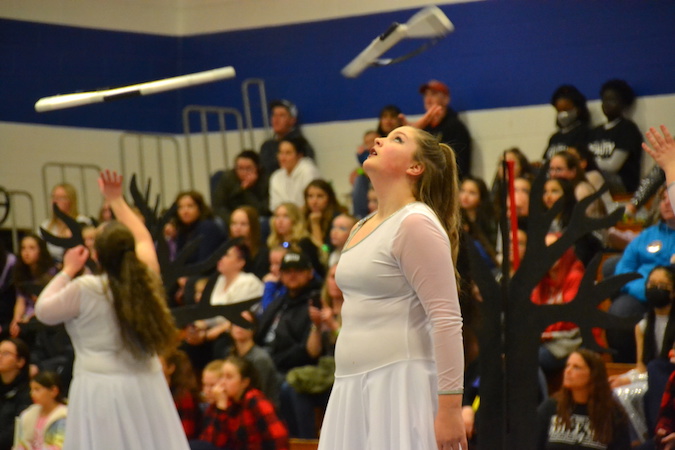 Photos by Tom Rivers
MEDINA – Raelynn Baker and other Medina Winter Guard members keep an eye on rifles that were tossed high in the air during today's performance of the North East Color Guard Circuit Championships. Medina hosted the event that included 18 groups and about 500 spectators.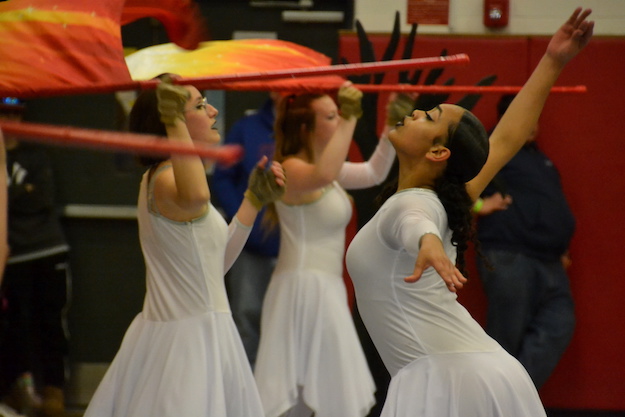 Medina's show is entitled "Wake Up." The members try to assist Nevaeh Farewell, one of the members, who is dreaming. They try not to wake her so she can complete the journey in her dreams.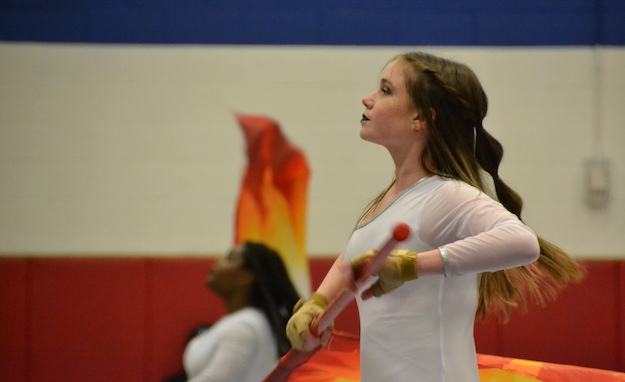 Ava Chambers performs for Medina's Winter Guard. She carries a flag. Medina has 16 members performing today. They danced, and spun rifles, flags and sabres.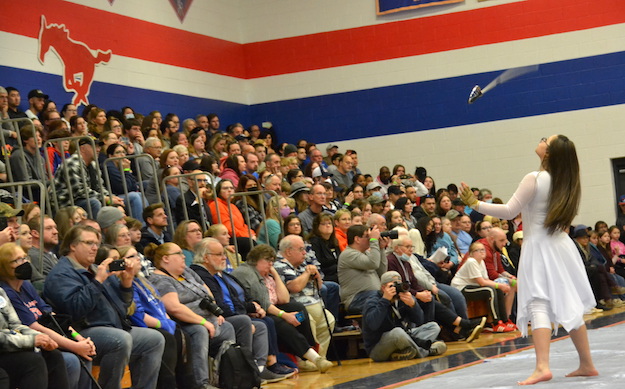 Gabriella Flores-Medina is the guard captain. The groups performed in front of a packed gym of about 500 people.
Medina's Varsity Winter Guard is led by guard director Diana Baker and color guard instructor Anna Oakes.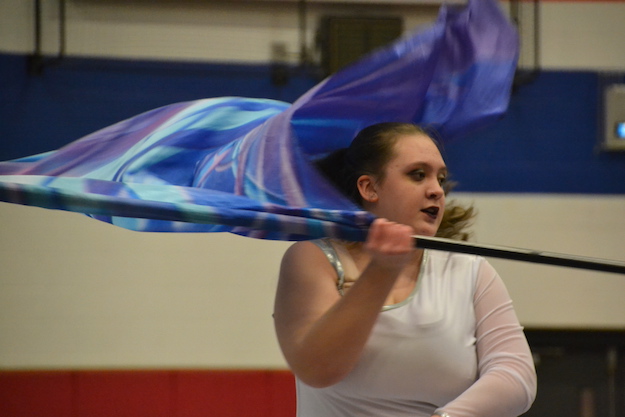 Kayleigh Wright spins a flags during Medina's performance.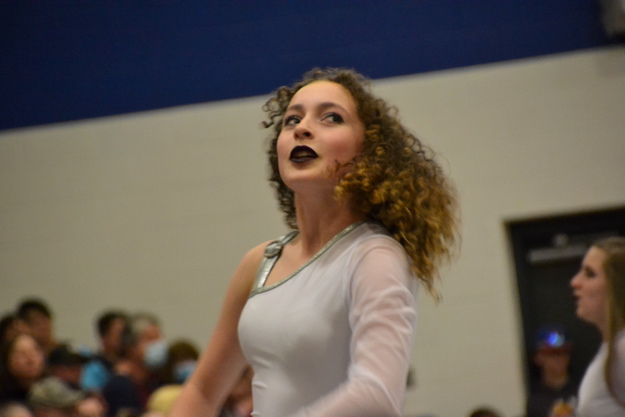 Maddie Lewis is one of the dancers in Medina's Winter Guard
Championship results in the divisions include:
Senior – Luminosa, 1st with 86.800.
Independent A – Gates Chili Independent, 1st with 88.570; Batavia, 2nd with 88.220
Scholastic A – Victor Blue Devils, 1stwith 88.730; Orchard, 2nd with 87.340; Jamestown Express, 3rd with 84.980; and Medina, 4th with 83.310.
A1 – Lancaster HS, 1st with 84.770; Hindsdale Headliners, 2nd with 78.920; and Gates-Chili JV, 3rd with 77.630.
Regional A – Greece, 1st with 82.180; Marcus Whitman, 2nd with 81.400; and Gates-Chili RA, 3rd with 78.890; Batavia Cadet, 4th with 78.290; and Dundee, 5th with 74.880.
Cadet – Victor JV, 1st with 75.060; Jamestown Caboose, 2nd with 71.190.
Novice – Hinsdale Starliners, 1st with 64.160.
---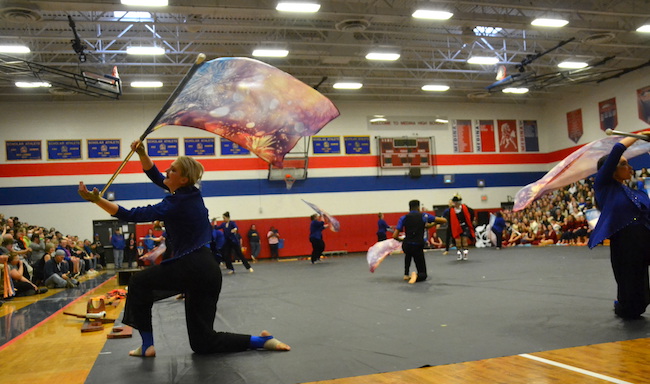 Luminosa, which is based in Buffalo, performed a show, "Misconduct," that increased speed with some of the players trying to overpower the others. They performed to The Blue Danube Waltz, Hall of Mountain King, Beethoven's Fifth, The Barber of Seville, Ride of the Valkyries and 1812 Overture.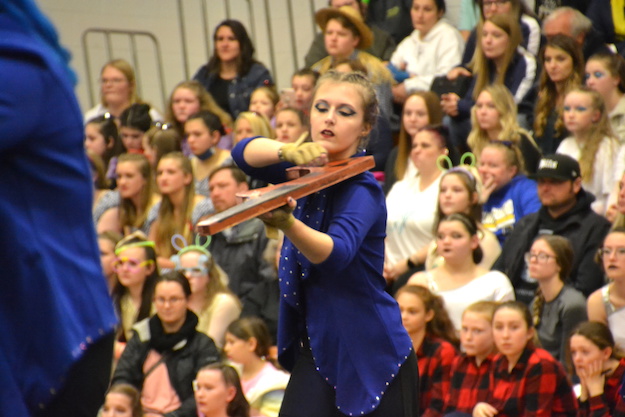 Luminosa's  members have graduated from high school. The compete in the Senior Division. This member holds a rifle which was painted to resemble a violin.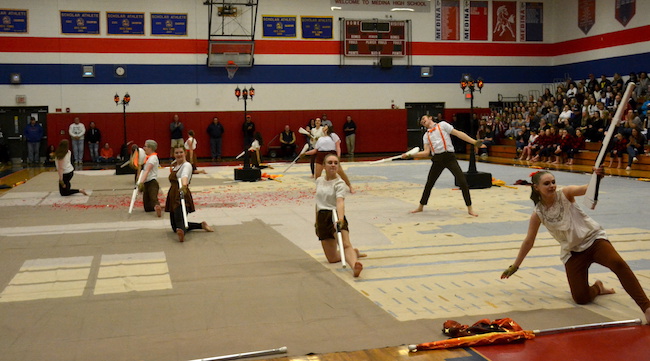 Gates-Chili performed a show "Making a Difference in the World."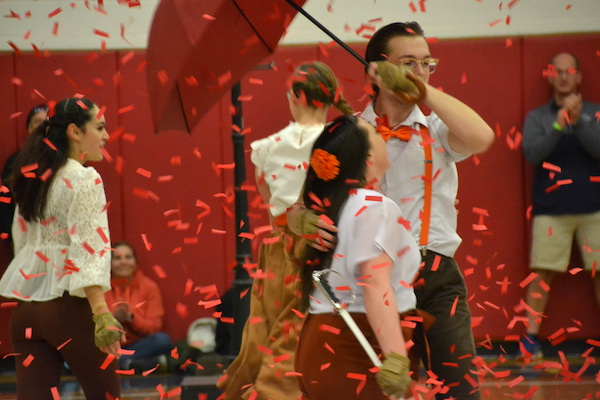 The group urged that acts of kindness, care and love can create a ripple effect and make a huge difference.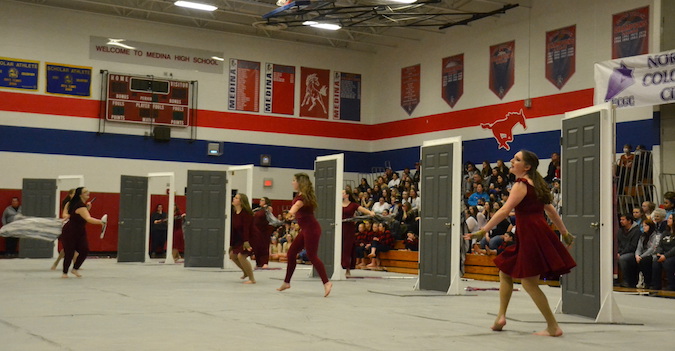 Batavia's show is called, "When You Close The Door."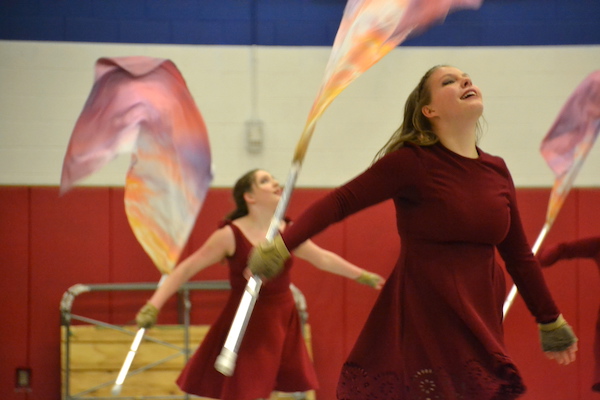 Batavia's show sent a message about when being separated from the ones you love, the pain often eases when coming back together.