Cole Spierdowis of Albion becomes an Eagle Scout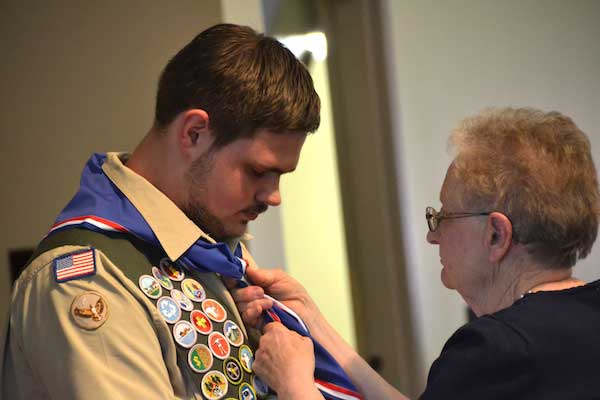 Photos by Tom Rivers
ALBION – Linda Spierdowis puts the Eagle Scout neckerchief and neckerchief slide on her grandson, Colburn "Cole" Spierdowis, during his Eagle Scout Court of Honor ceremony this afternoon at the Holy Family Parish's Lyceum.
Cole, 15, earned the highest rank in Scouts. He has been in the program for a decade, joining as a Tiger Scout in 2009.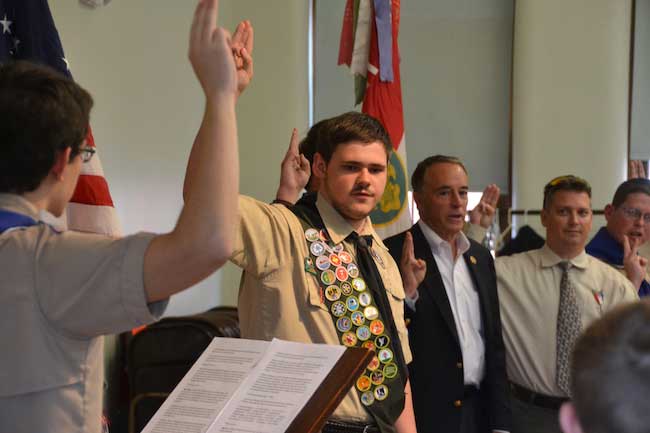 Cole is joined by other Eagle Scouts at today's Court of Honor, including Congressman Chris Collins. They are doing the Scout sign.
Cole has earned 31 merit badges as a Boy Scout. He led Scouts in sanding and painting a classroom at the Lyceum for his Eagle Scout project. Cole said he wanted to do a project at the Lyceum because that is where the Scouts hold many of their meetings and the Holy Family Parish sponsors Troop 164.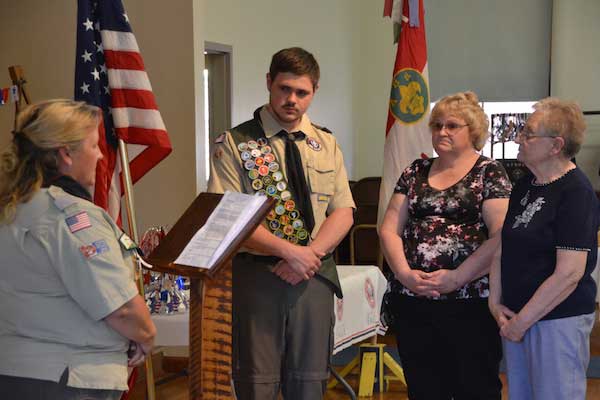 Sue Flanagan (left), the assistant scout master, said a supportive family is critical for a Scout to succeed. Cole is joined by his mother Karen Spierdowis and grandmother Linda Spierdowis.
Cole is sophomore at Albion High School. He said he has enjoyed the camping trips and working on his merit badges.
He presented mentor pins to Eric Brown and Michael Grabowski, two adult leaders in the troop who have offered Cole lots of encouragement and support.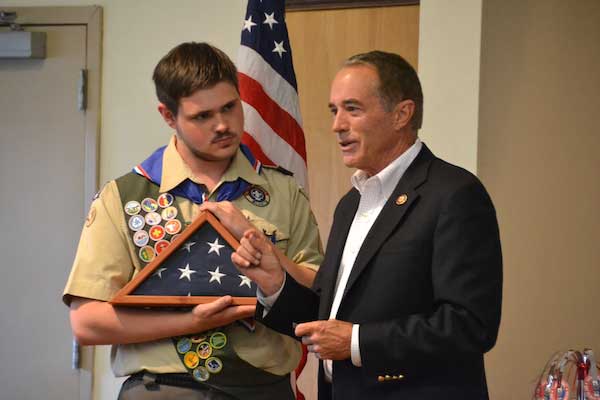 Congressman Chris Collins attended the ceremony and presented Cole with a flag that has flown on the U.S. Capitol. Collins also gave Cole an official congressional commendation and one of Collins' challenge coins that include the Cub Scout motto of "Do your best" and the Boy Scout motto of "Be prepared."
Collins is also an Eagle Scut and a former assistant Scoutmaster. He also served on the Executive Board of the Greater Niagara Frontier Council and was chairman of the GNFC National Jamboree as well as the World Jamboree for 2007.
He said Scouts develops leaders and teaches responsibility. He praised Cole for earning the Eagle and getting it well before he was 18.
State Assemblyman Steve Hawley also attended the Court of Honor and presented Cole with a commendation from the Assembly.
Greg Dugan, local leader of the Knights of Columbus, also presented Cole with a citation.
Cole said he plans to stay active in the troop and help other Scouts work on completing merit badges.
"I've made a lot of friends and it's a ton of fun," Cole said about Scouting.