Cobblestone Museum show gives rare glimpse of century-old quilts on Sunday
Show also features quilt from Lockport honoring African-American who integrated schools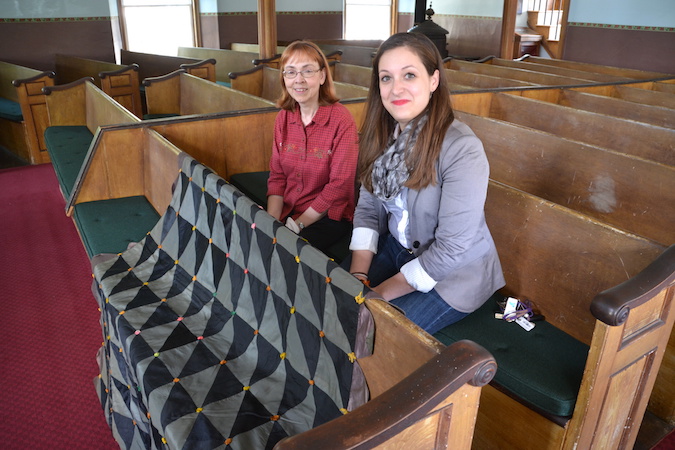 Photos by Tom Rivers: Cobblestone Museum Volunteer Coordinator Sue Bonafini, left, and Museum Director Taylor Daughton are pictured with one of the quilts from the museum's collection that will be part of a quilt and textile show on Sunday at the museum from noon to 5 p.m.
GAINES – Quilts in colorful and often complicated patterns will be on display at the Cobblestone Museum on Sunday from noon to 5 p.m. in an antique quilt and textile show.
At least one of the quilts tells a powerful story. It honors Aaron Mossell, an African-American businessman who spearheaded the push to integrate Lockport city schools in 1876.
That quilt was recently created by the Dale Association Quilters and the Kenan Quilters Guild in Lockport to honor Mossell.
"He's a huge deal to Lockport," said Sue Bonafini, the museum's volunteer coordinator. "He's a local hero."
Tara Thom, owner of Town and Country Quilter in Gaines, and other local quilters will also have some of their work on display at the Cobblestone Church, 14389 Ridge Road West.
Georgia Thomas, a member of the Museum's board of trustees, pushed to have the quilt show. The museum's archives include many quilts and textiles from the late 1800s to the 1920s.
The museum isn't sure how old all of the pieces are. Bonafini is hopeful some quilting experts will attend the show on Sunday and have some insights about the quilts and textiles.
The sizes and fabrics vary in the pieces. The quilts will be displayed on church pews with coverlets from the 1800s hung from the balcony.
Halloween Bash on Friday includes wine-tasting, ghostbusters and other activities
The museum on Friday (Oct. 21) is planning a Halloween Bash with Brockport State College history students. The event is open to the public and includes wine tastings, music, ice cream from a food truck, "ghoulish games," a Halloween costume contest, pumpkin painting contest, swing dance lessons and lectures.
Dr. Paul Moyer of SUNY Brockport will discuss the happenings in Salem, Massachusetts with his "Myths of Salem Lecture." Matthew Ballard, president and former director of the Cobblestone Museum, will highlight the stories of the criminals and court cases of Orleans County with a "lights-out" presentation of "Infamous Criminals of Orleans County." The Ghostbusters of Rochester will also be at the Museum exploring the grounds.
For more information on the events, click here.