Cobblestone Museum honors supporters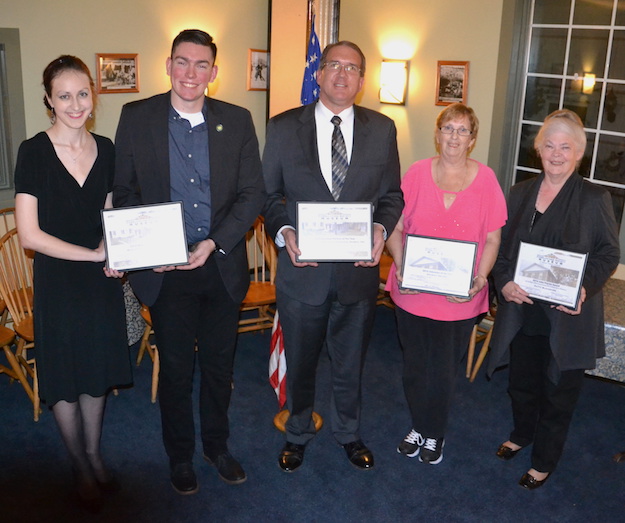 Photos by Tom Rivers
GAINES – The Cobblestone Society and Museum held its 56th annual meeting on Thursday evening at Tillman's Village Inn and honored several supporters for their efforts at the museum.
The following are pictured, from left: Emily Maxwell, secretary and vice-president elect for Brockport History Forum; Robert Bretz, president of Brockport History Forum; David Mitchell of Christopher Mitchell Funeral Homes; Shirley Helfer; and Patty Blackburn, illustrator for new coloring coloring book about the museum and Cobble the Mouse. (Not pictured: Georgia Thomas and Kim Martillotta-Muscarella.)
Business Partner of the Year: Christopher Mitchell Funeral Homes was recognized for being a steady supporter over the years, including sponsoring events this year at the museum. Christopher Mitchell was the first sponsor to step forward and support the Halloween Bash on Oct. 21. David Mitchell of Christopher Mitchell was praised for supporting many local organizations, including the museum on Route 104 and Route 98 in Childs.
New Partner of the Year: Brockport History Forum. This group of students at Brockport enjoys history. Many of the members are history majors, but not all of them. They helped put on the Halloween Bash at the museum. That event attracted more than 100 people and raised $1,100 for the museum. The activities included wine tastings, music, ice cream from a food truck, "ghoulish games," a Halloween costume contest, pumpkin painting contest, swing dance lessons and lectures.
New Partner of the Year: Kim Martillotta-Muscarella. The Albion resident coordinated several art shows at the museum as her "First Friday" shows moved from her house on Main Street in Albion to the Cobblestone Church. The shows drew hundreds of people to the museum, and also showcased several local artists. The shows included wine-tastings and refreshments.
Volunteer of the Year: Shirley Helfer. She gave nearly 70 hours at the museum, helping to prep buildings for weddings and other events. She volunteered at the gift shop and was flexible in helping behind the scenes.
John Proctor Award: Georgia Thomas and Patty Blackburn. This award is named for the founder of Childs who helped establish the Cobblestone Church. The Ward House, which is part of the Cobblestone Museum, also was built in 1840 under the direction of Proctor. The award in his honor is given "for selfless efforts to promote the Cobblestone Museum."
Thomas and Blackburn worked together to create a coloring book. Thomas wrote the book which shows Cobble the Mouse visiting the different buildings at the museum. Blackburn illustrated the book.
"Other museums have coloring books with a character," Thomas said in a July interview. "Cobble is a wonderful mouse and he gives you an enchanting tour of the museum."