Clarendon firefighters support chief battling colon cancer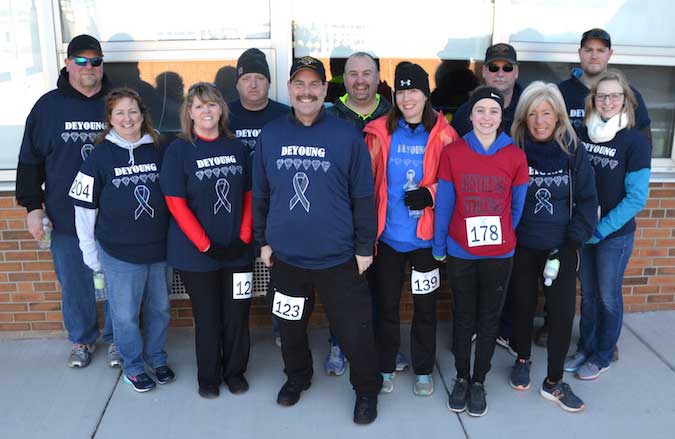 Photo by Tom Rivers
ALBION – Jon DeYoung, front center, was joined by about a dozen friends and family this morning at the Wayne A. Burlison-Colon Cancer Awareness 5K Run and Walk in Albion. The event is in memory of an Albion elementary school teacher who died at age 36 on March 26, 2014. Burlison fought colon cancer.
DeYoung, 52, is the Clarendon fire chief. He is now fighting colon cancer for the third time. He was diagnosed around Christmas. He completed his chemo treatments.
He walked the entire 3.17-mile course this morning with his wife Brenda, son Jon and his wife Jessica, brother Jim and his wife Jackie, and several firefighters. Some of the firefighters wore their turnout gear while walking the course. The group also wore "DeYoung Strong" shirts.
DeYoung wanted to be at the event to raise awareness for colon cancer. He urged people to get checked for the disease.