Clarendon Fire Company honors firefighters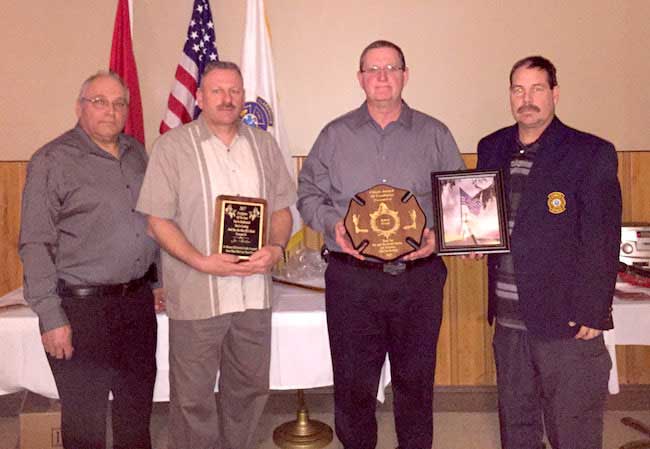 Provided photo
CLARENDON – The Clarendon Volunteer Fire Company held its annual banquet on Saturday evening and presented its awards.
Pictured, from left, include: Dan Campbell – Director, past chief, safety officer, and banquet MC.
Joe Morlino – Firefighter of the year, lieutenant, and vice president. Morlino was a past chief at Fancher-Hulberton-Murray before joining Clarendon. He is very dedicated and also helps with fundraising for the fire company.
Bob Margis – Recipient of the Chief's Award. He is a director, past chief, and safety officer. Margis was diagnosed with thyroid cancer this year but never slowed down with the fire company, responding to many calls.
Chief Jon DeYoung – He is holding a picture of Bob Margis at a structure fire from Nov. 28.
The photo includes lots of smoke and an American flag in the foreground. (The photo of Margis was originally published on the Orleans Hub.)