Chuck Nesbitt praised for his service to county as he prepares for new job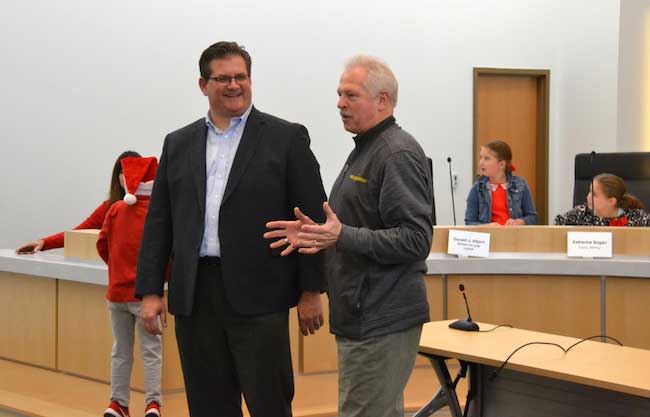 Photos by Tom Rivers
ALBION – Jay Gsell (right), county manager in Genesee County, attended a party on Friday for Chuck Nesbitt, left, who is leaving his position as chief administrative officer in Orleans County, after 14 ½ years.
Gsell praised Nesbitt for bringing a "progressive" approach to county government. Genesee and Orleans were the first counties to share a public health director, which then led to a shared staff and a board of directors.
They are standing in a new legislative conference room, which was part of a $11 million addition to the County Administration Building as well as upgrades to the Mental Health building.
Nesbitt helped lead that project that included about $3 million in state funding. Gsell said Nesbitt built partnerships with elected officials locally and around the state, and those relationships paid off for Orleans County.
"It's about being smart, being committed and putting a team together," Gsell said. "Collaborations are what it is all about. It's teamwork and a commitment to the public sector."
Nesbitt is leaving for a job with Wendel, an architectural and engineering firm. He will help Wendel expand its customer base in the Rochester and Syracuse area. Nesbitt will be a resource for local and state governments tackling building projects and infrastructure upgrades.
Nesbitt is well regarded in county government circles. He just finished his tenure as president of the New York State Association of Counties. He served as president of the NYS Association of County Administrators and Managers from 2008 to 2018.
"That is a testimony of the trust and care and respect for how he leads us," Gsell said.
Nesbitt played on the offensive and defensive line for an Albion team that won the state title. He then played on the offensive line at the University of Maryland and then for a year at the University of Buffalo.
Joe Cardone, the Orleans County district attorney, said Nesbitt has served as a blocker for the county department heads and employees.
"He always has your back, your blind side," Cardone said. "He has been amazing at handling many difficult problems."
John Papponetti, an Albion native and engineer, left the private sector to join the county government as the highway superintendent.
Nesbitt recruited Papponetti for the position with the retirement of Jerry Gray. Papponetti's hiring is an example of Nesbitt working to build a strong team of department heads.
Papponetti left Labella and Associates to work for the county on March 27. Papponetti said Nesbitt's vision was a selling point for the job.
"It's about being innovative and getting more out of the taxpayers' money," Papponetti said. "We've been able to make the dollars go farther."
Papponetti can do engineering in-house, rather than contracting that to outside firms. The county highway also is pouring concrete slabs and constructing culverts. It did that for the first time on Culvert Road in Ridgeway last year. Doing the project by itself reduced the construction costs by an estimated $180,000. Papponetti was a consultant on the project.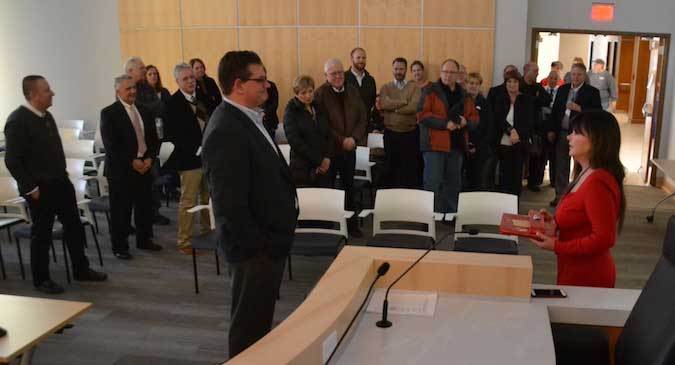 Orleans County Legislature Chairwoman Lynne Johnson presents Nesbitt with gifts for his many years of service.
She said Nesbitt has left the county in a strong financial position, while also finishing the $11 capital project at the County Administration Building and moving past the bid phase for a $5.9 million upgrade to the emergency communications system.
"He's left us in a far better place," Johnson said.
County officials are pleased with the applicants for the CAO. The deadline for applications closed on Dec. 16.
The chief administrative officer of the county government manages a $71 million operation with 415 employees in 24 departments.
The job is advertised for a salary of $100,000 to $125,000. The key responsibilities for chief administrative officer include preparation of the county budget, developing long-range capital improvement budgets, purchasing oversight, labor relations management, property control and risk management, intergovernmental relations and legislative advocacy, public information officer duties, and general oversight of departments and the coordination and administration of county government functions and activities.
Nesbitt's last day on the job is Dec. 31, but his last day in the office was Friday. Johnson said department heads will likely assume some of the CAO duties in the transition to a new CAO. Johnson also will have to fill some of the duties. She is hopeful a new CAO will be in place in February.
Nesbitt thanked the county legislators, department heads and county employees for embracing many of the changes in recent years.
"It's been my honor to serve in this position the past 14 ½ years," he told the group at his sendoff party.