Child enrichment business moves into former Rainbow Preschool space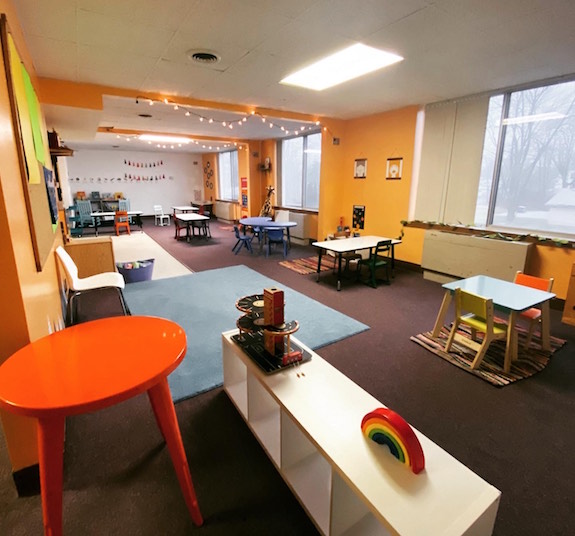 Provided photos
ALBION – The Tree House, which opened in March 2020 in downtown Albion, has relocated to the space for the former Rainbow Preschool at the Arnold Gregory Office Complex, 243 South Main St., and given the site a vastly new look.
The move more than doubles the space to 3,500 square feet for the Tree House, which offers child enrichment programs, parent-child classes and birthday parties.
"We are able to have different classes and offerings at the same time," said Michelle Waters, Tree House owner. "We are so excited!"
The space for many years was used by the Rainbow Preschool, until it was closed in late August by the Arc of Genesee Orleans.
The announcement today that Rainbow Preschool is closing ends a program that is nearly 50 years old.
For nearly 50 years, the Arc ran Rainbow Preschool, serving children ages 2 ½ to 5 with developmental and intellectual disabilities. At its peak, the school served 300 children. The enrollment for 2020-21 was at 26 students.
Michelle Waters opened The Tree House on March 12 at 116 North Main Street, 2nd Floor. That was just before the state imposed restrictions to slow the spread of Covid-19. Waters was forced to temporarily close to in-person services.
Waters was able to pivot the business that specializes in preschool and toddler programs. She developed activity kits to help families who suddenly had children home – nearly all the time. She delivered them throughout Western New York. Those kits were fun and educational.
The Orleans County Chamber of Commerce in November recognized The Tree House as the "New Business of the Year."
Waters said The Tree House provides in-person programs that meet social distancing and public health guidelines.
"The Tree House is the place for the kind of loud and messy fun that promotes learning," Waters said. "From musical instruments to the ooey gooey there is something sure to inspire wonder in your child."