Charter captains honor 'King of the Oak' with memorial troll
Paul Czarnecki was popular captain out of Oak Orchard for past 20 years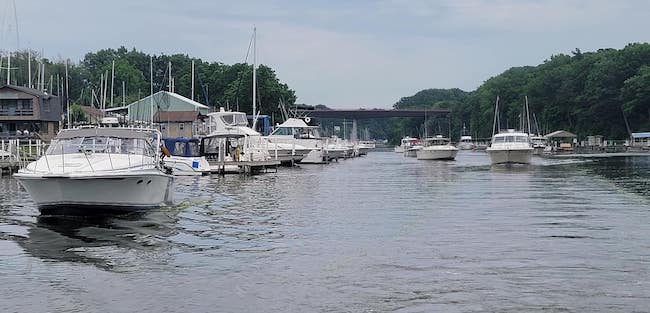 Provided photos
POINT BREEZE – About 15 charter boat captains filled with people this afternoon for a memorial troll from the Oak Orchard River to Lake Ontario. The charter captains were honoring their friend, Paul Czarnecki, a charter captain the past 20 years at the Oak Orchard.
An Erie, Pa. resident, Czarnecki passed away at age 57 on April 4. He was diagnosed with multiple melanoma on May 18, 2021. He continued to work full-time as a charter captain last summer at Point Breeze, despite almost daily medical appointments for chemotherapy, blood draws and other doctor visits, his wife Christie said.
To honor Czarnecki today the charter captains took their boats about 2 miles out into the lake, just north of the Oak Orchard Harbor. That is where the lake is about 80 feet deep. Czarnecki would use that spot to put the fishing line in the water. The captains today then went east about 4 miles, to a glass house that is a landmark near the Kendall town line. Czarnecki believed the best fishing was between the Oak Orchard Harbor and the 4 miles to the glass house.
The captains offered tributes to Czarnecki on a private channel.
Today was all about paying their respect to a man who loved Point Breeze and worked hard to build up the fishery to benefit other local businesses and charter captains.
"He believed this was the best fishing on the lake," said David Bonnell, who worked for Czarnecki for the previous five years.
Czarnecki came up from Erie and had his 33-foot-long boat – "Free Spirit" – in the water on April 1. He fished the month of May out of Wilson before shifting the Oak Orchard from June 1 to just after Labor Day.
His customers came back year after year, including some from 35 years ago.
"Paul literally knew everybody," Bonnell said. "He was the wittiest person."
Czarnecki made sure his customers had a good time on the boat – and caught big salmon and trout. He would extend the charter and stay out later in the lake to make sure they caught fish, Bonnell said.
Czarnecki and his son Dylan won the "King of the Oak" fishing tournament in 2020. That competition is based on four series with points for the number of fish and their weight. Czarnecki accumulated the most points in taking the title. He and his son, now 12, celebrated by wearing Burger King hats.
Today, Dylan steered his dad's boat during the memorial troll. Dylan is 12. His younger sister Piper is 8.
Czarnecki was well regarded among his peers for sharing his knowledge and for being a "straight shooter."
"He was full of knowledge but he didn't stretch the truth," one the captains said this evening during a cookout at Ernst's Lake Breeze Marina.
Czarnecki was built like a lineman. He was 6 foot, 3 inches, a big presence.
"But he was full of heart," Bonnell said.
Czarnecki was fishing out of Erie but tried the Point Breeze area after salmon and cohoes weren't being stocked in Erie.
At Point Breeze, he found a fishery that lasted for months with Chinook salmon, steelhead (rainbow trout), brown trout and lake trout. He also discovered a friendly community among the charter boat captains and other local businesses.
"He fished at many places but he really thought this was the best place in the world," Bonnell said.