Chamber of Commerce celebrates grand opening of 39 Problems in Albion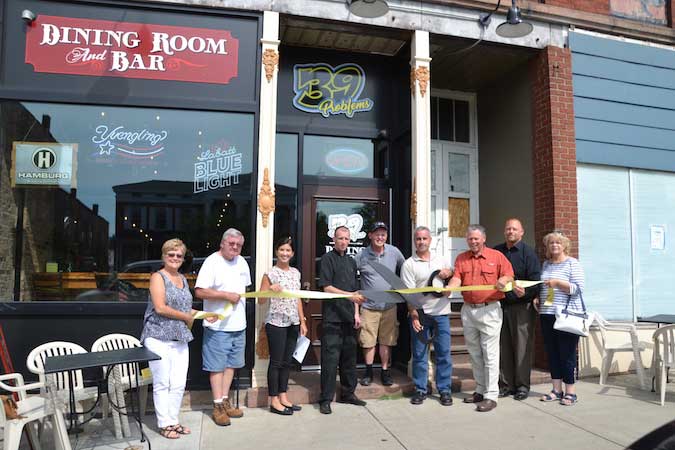 Photos by Tom Rivers
ALBION – The Orleans County Chamber of Commerce celebrated the grand opening of 39 Problems this afternoon. The restaurant and bar opened on March 1 at 43 North Main St., following extensive renovations. A larger site next door, at 39 North Main St., could be opened for expanded seating in the future.
Adam and Tina Johnson run the business, which gives Albion a draw in the downtown business district, Chamber officials said.
This group includes, from left: Becky Charland, Chamber of Commerce director; Cliff Thom, a Chamber board member; Madelyn Genovese, communications director for State Sen. Robert Ortt; Patrick O'Sullivan, 39 Problems chef and general manager; Jonathan Doherty, Albion resident; Adam Johnson, 39 Problems owner; County Legislator Ken DeRoller; Chamber board member David Gagne; and Kathy Blackburn, Chamber board member.
"I've been here to eat a couple times and it's very, very good," Charland said. "This is great for Albion. I love the look of it. It's trendy."
Johnson said the business has dedicated customers and new ones who are discovering the site. A Tuesday night trivia concert at 7 p.m. has been a surprising success.
"It's growing and that's what you want to see," he said. "We have our footing under us. The building and the menu have come together."
Last month, 39 Problems added a food cart that goes to local festivals and events.
The Johnsons purchased the downtown building, which includes three storefronts, in 2015. They have been working diligently to renovate the site, while preserving its historic charm. In June 2017, they opened 39 Problems, selling pizza, grilled foods and "chill desserts." The site didn't have a dine-in option.
Now 39 Problems has a dine-in restaurant. The Johnsons have two of three storefronts done, and they would eventually like to expand the dining area to the remaining storefront.
Johnson continues to be involved in downtown projects, including Thursday cruise-ins. Those events are timed to coincide with the canal concert series from 6 to 8 p.m.
There will be a bigger cruise-in on Aug. 11 when a section of Main Street is closed off. Proceeds go to the Warrior House in Shelby.