Chain gang honored for work at Albion football games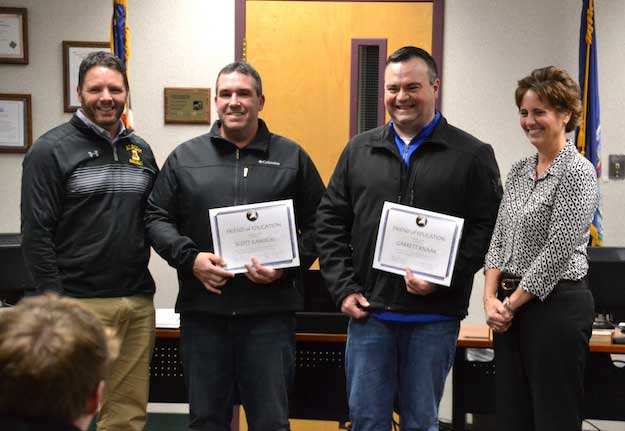 Photo by Tom Rivers
ALBION – The chain gang was presented a "Friend of Education" award on Monday at the Albion Board of Education meeting. Pictured from left includes Adam Krenning, head football coach; chain gang members Scott Kaniecki and Garrett Knaak; and Margy Brown, Board of Education president. Missing from photo: chain gang members Jeff Denson and Gary Westlund.
The chain gang volunteers at Albion football games. Two members are on each sideline holding sticks that are separated by the 10-yard chain. One person holds the down marker at the line of scrimmage.
The four chain gang members have nearly 50 years of service, with Westlund accounting for 27 seasons. They are there regardless of weather.
Krenning said the chain gang members are among the many volunteers who contribute to the football program.
"We couldn't do it without them," Krenning said.
The Board of Education also recognized two middle school students on Monday.
Kelsey Froman received the Leadership Award. She recently starred in the middle school musical of Pinkalicious and played on the modified soccer team. She also is on the high honor roll.
"She is a person of high effort and high character," said Brad Pritchard, the school principal. "She is an amazing role model for all of our students at Albion Central School."
Makayla Klatt was presented with the Character Award. Pritchard said she has a strong work ethic and shows grit and the growth mindset.