Central Hall in Albion previously Legion home named for Sheret brothers who died in WWI
Sgt. James Sheret and his brother Pvt. Egbert Sheret were both killed in action on Sept. 29, 1918
By Catherine Cooper, Orleans County Historian 
Illuminating Orleans, No. 1
ALBION – This first column of Illuminating Orleans appropriately enough focuses on Central Hall, East Park Street in Albion, as its varied incarnations over the years dovetail with Veterans Day.
This solid red-brick building was the Central School from 1882-1934. Purchased by Orleans County in 1980, it has since accommodated the Treasurer's Dept., the Probation Dept. and the Historian's Office.
Having outgrown its quarters, the Historian's Office and Orleans County History Dept. will soon be moved to the second floor, recently vacated by Probation.
From 1935-1980 the building was home to Sheret Post #35 American Legion which was named in honor of Sgt. James A. Sheret whom General Pershing considered "one of the hundred heroes of WW1". A member of Co. F. 108th Reg., NY Volunteer Infantry, Sgt. Sheret was killed in action on September 29, 1918. He was awarded the Distinguished Service Cross for the bravery of his actions during the attack on the Hindenburg Line.
Sept. 29, 1918 was a dark day indeed for the Sheret family, as their son Pvt. Egbert Sheret, a machine gunner was also killed in action on that same day. Yet another son, Andrew, was wounded at that battle, but survived. A fourth son, John G. served in the Navy and mercifully survived the war as well.
The Sheret brothers were the sons of John Galashan Sheret Sr. who immigrated from Aberdeenshire, Scotland in 1886. He married Anna Wickizer of South Ausman, Susquehanna County, Pa. in 1891. Described as a block breaker by profession in the 1915 NY Census, John Sheret Sr. became secretary of the International Union of Paving Cutters. John and Anna had ten children: James, Egbert, John Jr., Andrew, Elsie, Marion, Virginia, Donald and Bernard, with quite a range in age as James was born in 1892 and Bernard in 1916.
John Sheret Sr. maintained his ties with Scotland and visited family in 1911, sailing on the ship Caledonia, according to Ellis Island records. Naturally, the Scottish branch of the family was also saddened by the loss of the two young men. The Aberdeen Evening Express of November 26, 1918 carried a notice of James and Egbert's deaths:
"Two brothers, James and Egbert Sheret, of the U.S.A. Infantry, were killed in action on 29th September last. They were the eldest and second sons of Mr. John Sheret, late of Bucksburn, and grandsons of Mrs. Sheret, Kirkvale, Ashgrove Road, Aberdeen. A third brother was wounded on the same day, and a fourth brother is in training."
The Sheret brothers of Albion are also included in the Aberdeen and District Roll of Honour which is housed at the National Library of Scotland: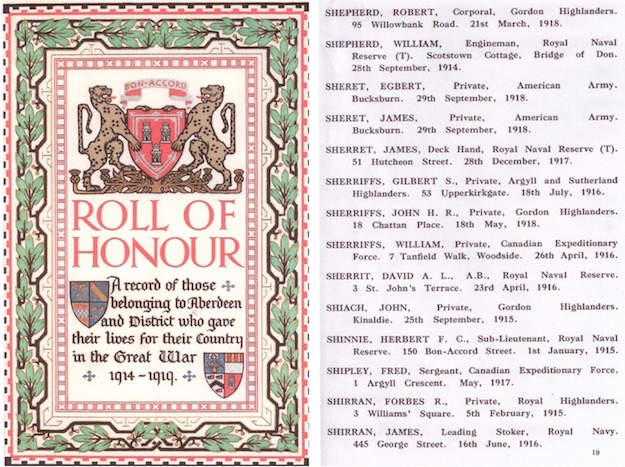 This family who sacrificed so much is buried in the Fairview section of Mount Albion Cemetery. Their memory is honored in the buildings and organizations named for them. Their story is part of the collection maintained by the History Dept. at Central Hall.