'Caught Doing Good' rewards now at Cone Zone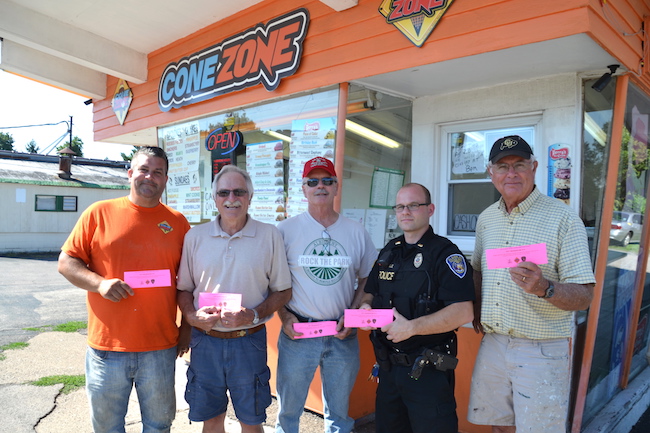 ALBION — In July the Albion Police Department launched a new "Caught Doing Good" program where police officers would ticket kids who were spotted doing good deeds in the community.
The tickets are actually coupons for free ice cream. The Albion Betterment Committee is paying for the frozen treat. Initially the program teamed with The Frosty Bucket on Main Street. But that business has since closed. Now the coupons are redeemable at Cone Zone, a popular stop on Route 31 across from the Albion Central School campus.
The tickets are good for a $3 ice cream, with the Betterment Committee paying $2 and the Cone Zone, owned by Karen and Chris Kinter, covering the rest.
Pictured include, from left: Chris Kinter, ABC directors Joe Gehl and Gary Kent, Lt. David Mogle of the Albion Police Department, and ABC director Gary Derwick.
The Betterment Committee and Police Department hope the tickets will build trust in the community for police among children and teens. Police leaders say officers have their own discretion in recognizing kids. It won't be used for kids who help police in investigations, Police Chief Roland Nenni said.