Case-Nic raises $2,360 for Arc with 'Have a Heart' fundraiser
Press Release, Arc GLOW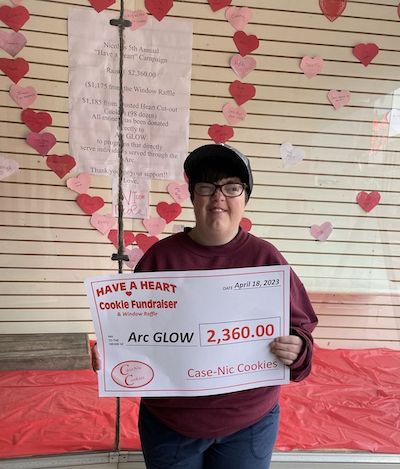 MEDINA – Case-Nic Cookies' 5th annual Have a Heart Cookie Sale and window raffle fundraiser generated $2,360 for Arc GLOW programs and services.
Mary Lou Tuohey, owner of Case-Nic, started the fundraiser with her daughter Nicole in 2019 as a way to highlight the March observance of Developmental Disabilities Awareness Month, and to raise funds for Arc services at the same time.
Mary Lou's cookie and raffle idea was inspired by Nicole, who has been receiving services from the Arc since she was a baby. Now, as an adult, Nicole attends Arc GLOW's Washington Street Day Hab program in Albion. Besides helping raise funds for Arc GLOW, the Tuoheys are also avid fundraisers for another charity close to their heart, the Alzheimer's Association.
"We love to give back to organizations that mean so much to our family," Mary Lou said.
In 2023, Have a Heart cookie sales totaled $1,185 and the window raffle raised $1,175.
"This is a true inspiration," said Lisa Bors, Arc's Director Public Relations. "We appreciate Nicole, Mary Lou and Case-Nic Cookies' faithful customers for supporting the Have a Heart campaign this year."
As designated by Mary Lou and Nicole, funds raised will benefit programs spanning all areas served by Arc GLOW: Camp Rainbow in Lyndonville, Day Habilitation and Recreation programs in Genesee and Orleans counties, and Arc GLOW's KidStart in Mount Morris.