Carlton, Barre fire companies are tops in county for training hours
ALBION – The fire companies and firefighters with the most training hours in 2017-18 were recognized during Monday night's joint meeting of the Orleans County Fire Advisory Board and Orleans County Fire Chiefs Association.
The Orleans County Office of Emergency Management along with state Office of Fire Prevention and Control presented the training awards for 2017- 2018 for Fire and EMS. The Barre Volunteer Fire Company led all of the departments with 831 EMS training hours. Carlton was tops in fire training hours with 559.
"I would like to personally congratulate all the award winners for their hard work and dedication to the emergency services and their home fire and EMS agencies," said Dale Banker, the county's emergency management coordinator. "They truly make our county a much better and safer place to live and work."
The breakdown for training hours for each fire department includes: Albion, 177 fire and 103 EMS; Barre, 195 fire and 831 EMS; Carlton, 538 fire and 303.5 EMS; East Shelby, 57 fire and 368 EMS; Fancher-Hulberton-Murray, 159 fire and 29.5 EMS; Holley, 368 fire and 349.5 EMS; Kendall, 420 fire and 59 EMS; Lyndonville, 387 fire and 40 EMS; Medina, 173 fire and 10 EMS; Ridgeway, 266 fire and 604.5 EMS; Shelby, 369 fire and 44 EMS; and COVA, 223.5 EMS.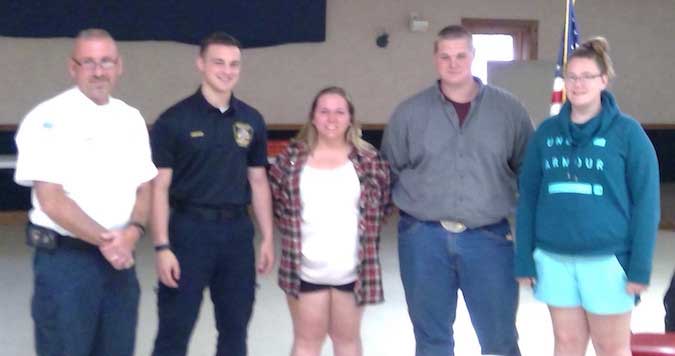 The following had 200 or more combined training hours in fire/EMS: Chantelle Kidney and Zachary Blackburn, both 276 with the Ridgeway Volunteer Fire Company; Kara Bentley, 252 with Barre; and Andrew Cary, 211 with the Holley Fire Company.
Pictured from left include Dale Banker, Andrew Cary, Chantelle Kidney, Zachary Blackburn and Kara Bentley.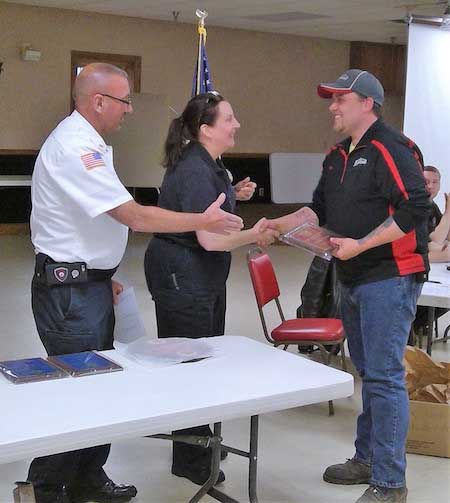 Wallace Snyder of the Lyndonville Fire Department accepts the award for leading the county with 147 fire training hours.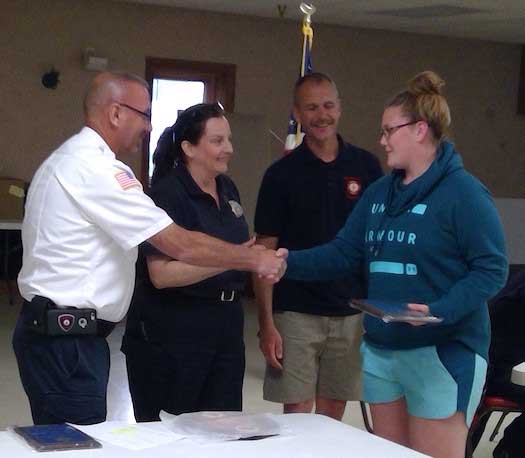 Kara Bentley of Barre led all firefighters with 223 EMS training hours.