Capurso gets thanks for contributions to community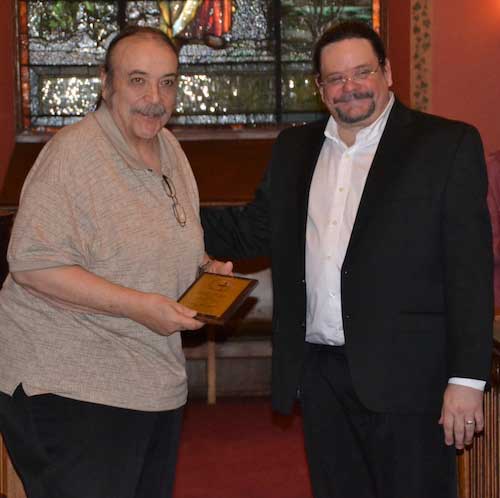 Photos by Tom Rivers
ALBION – Darrell Dyke (right), a member of the board of trustees for the Pullman Memorial Universalist Church, presents the church's Humanitarian Award to Al Capurso during a service on Sunday.
Capurso, a retired county social worker, was thanked for dedicating himself to others in his career and with his many historic preservation projects in retirement. He also has been active in environmental and social justice causes for many years.
Pullman Memorial in recent years has presented a humanitarian award to a local community member.
"Without their dedicated efforts to help improve and preserve what's best, without the sacrifice of time, talent and some treasure, too, this place simply wouldn't be what it is," Dyke said.
Capurso is the former Gaines town historian. He is active as president of the Orleans County Historical Association, which recently saved the former cobblestone schoolhouse on Gaines Basin Road. That building is now on the National Register of Historic Places. Caourso is also on the board of directors for the Cobblestone Museum.