Canal tugboat named for famed abolitionist Harriet Tubman
Press Release, Gov. Kathy Hochul's Office
ROCHESTER – Governor Kathy Hochul today announced the New York State Canal Corporation has named one of their vessels the Harriet Tubman in honor of the famed American abolitionist and humanitarian's inspirational life and legacy.
In the bicentennial year of Harriet Tubman's birth, the Canal Corporation dedicated the previously unnamed push tugboat at a ceremony along the Genesee River spur of the Erie Canal in Rochester, not far from abolitionist's home and final resting place in Auburn near the Finger Lakes.
"As we celebrate the 200th anniversary of Harriet Tubman's birth, it is our honor to recognize her commitment as a self-sacrificing abolitionist, suffragist, Civil War hero, and nurse who made meaningful and lasting contributions to our state and America's history," Hochul said. "By naming a vessel in her honor, we are uplifting her story of great sacrifice and the unique role that our state's canals played as part of the Underground Railroad."
Tubman, a leading figure of the Underground Railroad movement who helped free dozens of enslaved people, made several trips along the canal corridor, where the Erie, Champlain, Oswego and Cayuga-Seneca Canals provided an accessible route to Canada for many Freedom Seekers.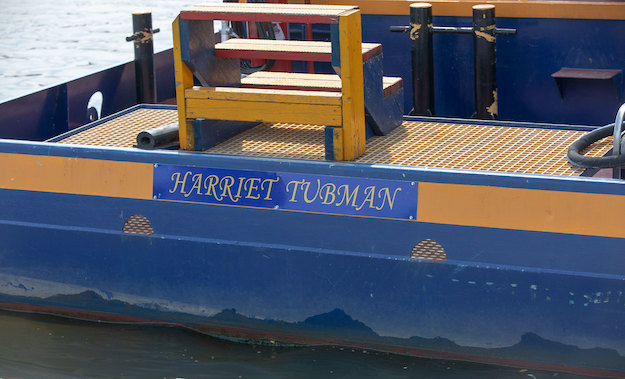 "Harriet Tubman is one of the most crucial figures in our history, and her brave contributions add to the rich history of the canalway," said New York State Canal Corporation Director Brian U. Stratton. "Today, we celebrate her life and legacy, as well as the role of the canal in the abolition movement, broadening the lens through which we understand the importance of this piece of our state's history."
At their September meeting, the New York Power Authority and Canal Corporation Board of Trustees voted to name this previously unnamed push tugboat in honor of Harriet Tubman who devoted her life to social activism and human rights.
The 2019 vessel is stationed along the Erie Canal at the Canal Corporation's maintenance facility in Lyons, Wayne County. When working on the canal, the tugboat pushes other non-motorized vessels during transit. These vessels include derrick boats, dredges, and scows that are essential for performing routine canal operations such as dredging, buoy placement, debris removal, and transit of materials.