Canal Corp. says lift bridges in good working order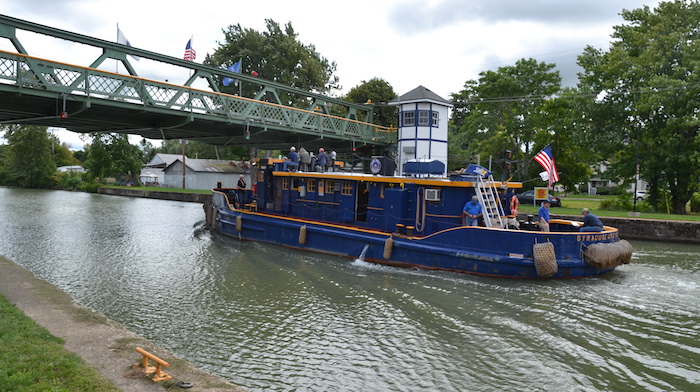 Photo by Tom Rivers: The Tugboat Syracuse carries engineers and Canal Corp. officials, as well as local planning and tourism leaders, during an inspection of the canal system in Orleans County today. The tug is approaching the Ingersoll Street lift bridge.
ALBION – The lift bridges that are part of the Erie Canal may be 100 years old, installed when the canal was widened a century ago, but the spans remain in good working order, state Canal Corp. officials said today.
The Canal Corp. is doing its annual inspection of the system. Today, canal engineers and officials are checking all seven lift bridges in Orleans County, as well as two in Brockport.
Orleans Hub checked with canal officials at about noon, when the crew was in Albion. It still had to check bridges in Hulberton, Holley and Brockport.
The five lift bridges from Medina to Albion all passed the Canal Corp. inspection in flying colors.
"We're very encouraged," said John Callaghan, Deputy Director of the NYS Canal Corporation. "There is a lot of attention to detail. It's really a tribute to the dedicated and talented workforce."
The canal crew travels by the tugboat, Syracuse, and grades the embankment walls, spillways, navigation aids, locks and lift bridges. The canal officials also make notes of those with dock permits on the canal.
Callaghan said the lift bridges, despite their wear and tear, are still getting the job done. Employees apply grease and do lots of preventive maintenance to keep the hydraulics and mechanical systems in reliable shape.
The canal is approaching its 200th anniversary. It opened in 1825. It was widened from 1905 to 1918 and many of the bridges, guard gates, waste weir systems and other canal infrastructure remain in use today from the "Barge Canal" widening.
Callaghan said the state remains committed to canal's maintenance and viability. "We have a working museum here," he said about the canal. "It's really special."
The bridges' deck and other structural elements are the responsibility of the state Department of Transportation. The Canal Corp. oversees the hydraulics, and infrastructure below ground.
The DOT plans to do a major rehab of the Main Street lift bridge in Albion in the near future. A specific timetable hasn't been identified, Canal Corp. officials said today. The Knowlesville bridge also will be rehabbed by the DOT, although it's not on the schedule yet.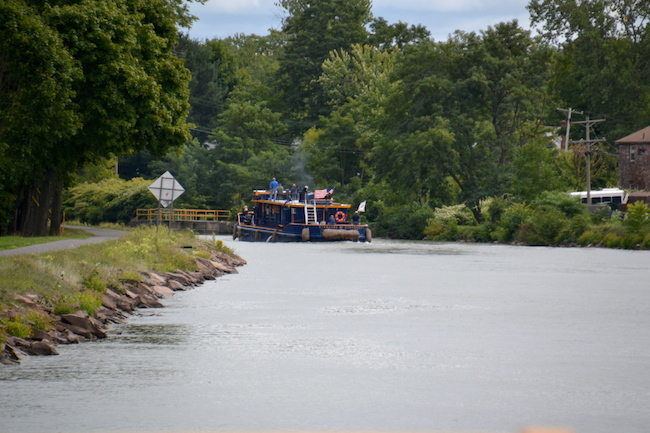 The Syracuse heads east from Albion to its next stop in Hulberton. Along the way, canal officials will check embankments, spillways and navigational aids.