Canal adds new kiosk, rest area on towpath in Albion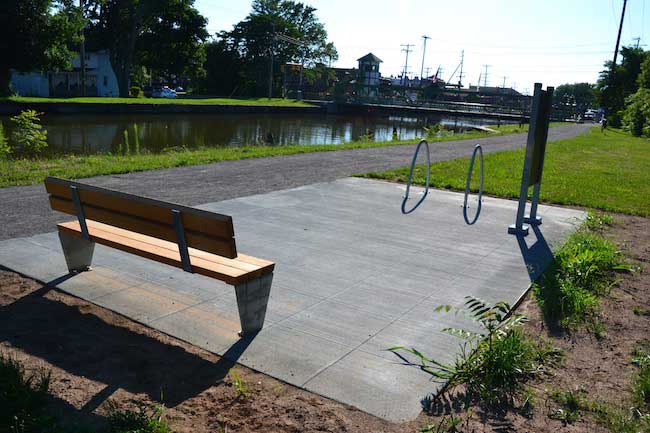 Photos by Tom Rivers
ALBION – The State Canal Corporation has added a new kiosk and rest area with a bench and two loop-style bike racks.
The rest area is just west of the Ingersoll Street lift bridge. The new rest area is one of a dozen being installed across the trail system.
"The intent is for it to be a gateway into the trail," said Shane Mahar, Canal spokesman. "The kiosk provides an overview of the system and some local history and information."
The Ralph C. Wilson Foundation provided funding for the new sign, bench and the loop style bike racks.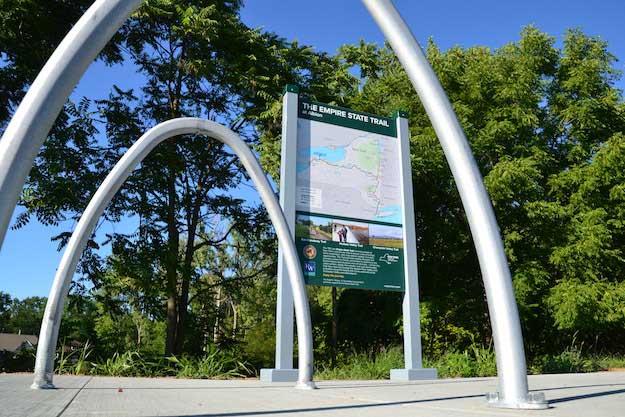 The kiosk promotes the 750-mile Empire State Trail, which includes trails on the Erie Canal towpath, the Hudson Valley and Champlain Valley.
The sign notes the closest services after Albion are in Medina, 11 miles to the west, and Holley, 10 miles to the east.
"The Trail promotes heathy lifestyles and provides a place for friends and families to experience the Empire State's special places and rich diversity – connecting urban centers, village main streets, and rural communities from New York City through the Hudson River Valley, west to Buffalo along the historic Erie Canal, and north to the Champlain Valley and Adirondacks," the sign states, urging people to explore the trails.