Canadian cyclists ride around Lake Ontario in fundraiser for cancer patients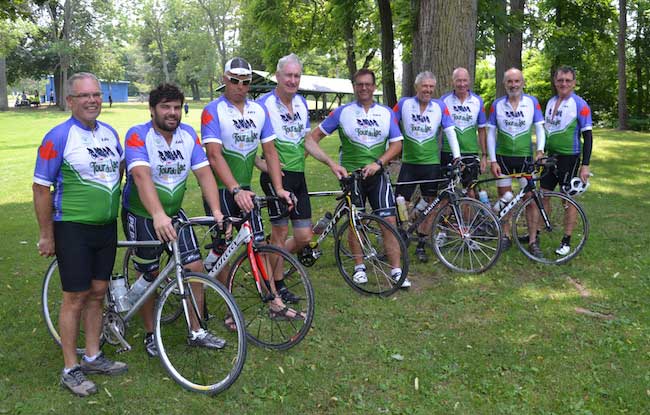 Photos by Tom Rivers
ALBION – This group of nine cyclists from Canada rode through Orleans County on Friday as part of the "Tour Du Lac" – a week-long bike ride around Lake Ontario to raise money for Wellspring, an organization that serves cancer patients and their families in Fonthill, Ontario.
The cyclists covered about 90 miles on Friday and rode along Route 31 while passing through Orleans County. They stopped for lunch at Bullard Park in Albion.
The group pictured includes, form left: Dan Toppari, Kyle Boggio, Len Stolk, Paul Allen, Larry Boggio, Graham Repei, Frank Adamson, Ian Forbes and John Yardley.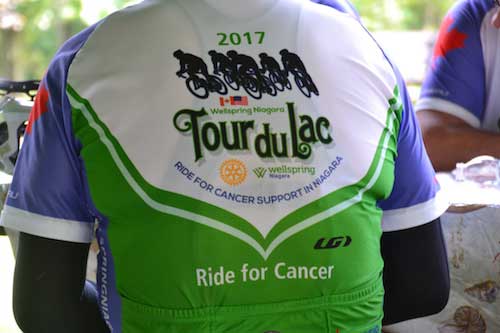 Six of nine cyclists are members of Rotary clubs in Canada. They have been riding about 90 to 100 miles since the trip started on Sunday. They rode to Lockport on Friday.
Today they complete the trek in Canada at Welland and expect to have raised about $90,000 to support the Wellspring organization which provides free programs to men, women and children living with cancer, as well as their caregivers and family and friends.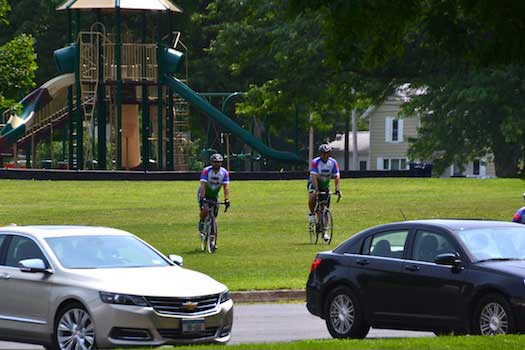 Two of the cyclists ride in Bullard Park on Friday. They stopped for a short respite and lunch provided by the Albion Rotary Club.