Campground welcomes parade of fire trucks for first responders' appreciation weekend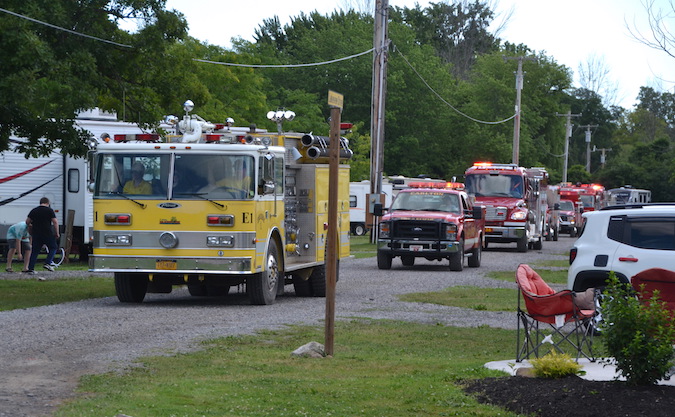 Photos by Tom Rivers
RIDGEWAY – Rob and Rachel Kaiser, owners of the Medina/Wildwood Lake KOA on Countyline Road in Ridgeway, lead a procession of fire trucks through the campground this morning. It was part of a first responders' appreciation weekend.
The Kaisers own the lead fire truck, which used to be owned by the airport in Hartford, Conn. The Kaisers give kids rides in the fire truck on most Saturdays during the season, which this year runs from April 30 to Oct. 11.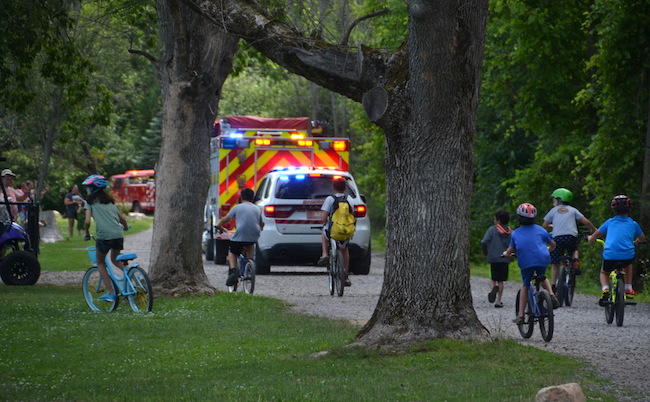 These kids follow the loud procession on their bikes. The fire trucks had their sirens going. An Orleans County deputy sheriff also joined in the parade. Click here to see a video.
As part of first responders' appreciation weekend there will be a camping discount for first responders. There will also be a rubber duck race this afternoon on Jeddo Creek with proceeds going to the Ridgeway Volunteer Fire Company. That is expected to be about $600.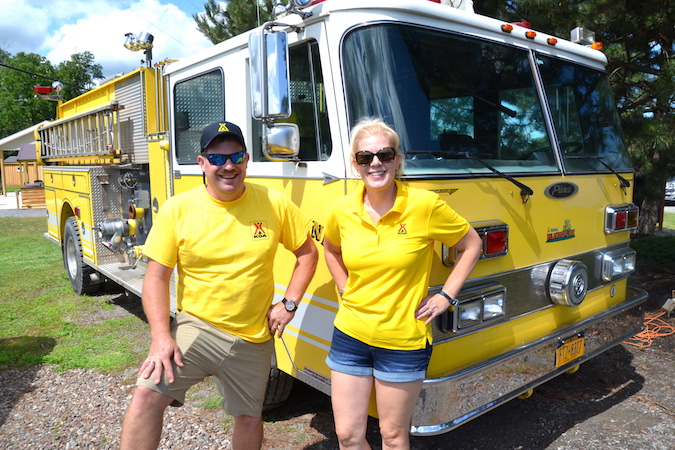 Rob and Rachel Kaiser are pictured with their fire truck after the parade. They have owned the campground north of Ridge Road on Countyline Road for 18 years. Last year they had a record year during the Covid-19 pandemic with many people looking for a getaway at a campground close to home.
They have nearly 350 sites at the campground and have two heated swimming pools, a jumping pillow, game room, on-site winery, peddle boats, a water slide and lots of other activities. On many days there are 1,300 or more people on site.
"It's good family bonding here," Mr. Kaiser said. "We create memories."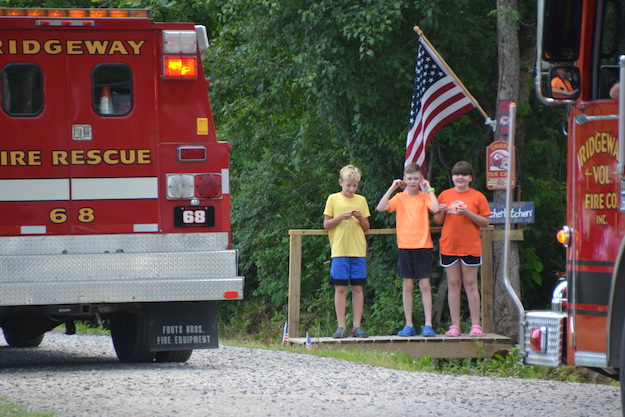 The Kaisers donated to each of the fire departments that attended today's parade around the campgrounds. Many of the campers stopped to wave to the firefighters, or to cover their ears from the loud sirens.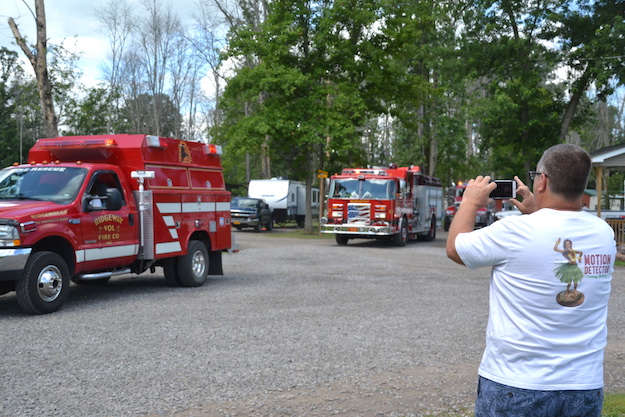 Tony Panzica of California takes a video of the procession. Panzica is a Tonawanda native in the area to see family. He said he is impressed by the campground, including how it handled the big downpour from two days ago.
He and his wife Patty said they are enjoyed seeing the small towns in Western New York and Orleans County.
"I'm just floored by this area," Panzica said. "It's so beautiful."