Callard resigns from County Legislature, effective today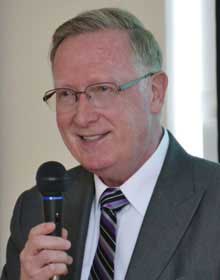 ALBION – David Callard, chairman of the Orleans County Legislature, has announced his resignation from the seven-member body, effective today.
Callard is stepping down for "personal reasons," said Chuck Nesbitt, the county's chief administrative officer.
The chairman had already stated this was going to be his last term after nearly 24 years as a county legislator. He wasn't seeking re-election this November to another two-year stint as a legislator. (The Republican Party endorsed Skip Draper, current Shelby town supervisor, to succeed Callard, beginning Jan. 1, 2018.)
Lynne Johnson, who has been vice chairwoman, will serve as leader of the Legislature for at least the short-term. The Legislature has begun working on the 2018 county budget.
Callard was the group's chairman for nearly eight years. He was picked by his colleagues to be their leader for four two-year terms.
Nesbitt issued this statement about Callard's resignation:
"The County Legislature has been informed that David Callard has resigned from the County Legislature effective Aug. 2, 2017. Mr. Callard has served on the County Legislature for 23 years. We thank him for his service to the county. Lynne Johnson, vice chairwoman of the County Legislature, will act as chair until such time as a new chair is elected."
Prior to being elected a county legislator, Callard was on the Ridgeway Town Board for four years. Callard, a Ridgeway resident, is a retired banking executive. He ran for Congress in 1996, losing to a long-time incumbent, John LaFalce.