At Market Auction, buyers reward 4-H'ers for months of hard work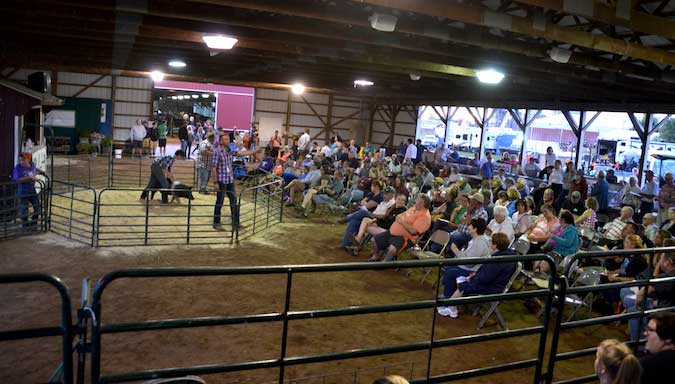 Photos by Tom Rivers
KNOWLESVILLE – Saturday was the 4-H Animal Meat Market at the Orleans County 4-H Fair, featuring quality 4-H-raised meat animals, including beef, hogs, lambs, goats, rabbits and poultry.
Zach Welker looks for bids for a pig raised by Zachary Neal of Albion.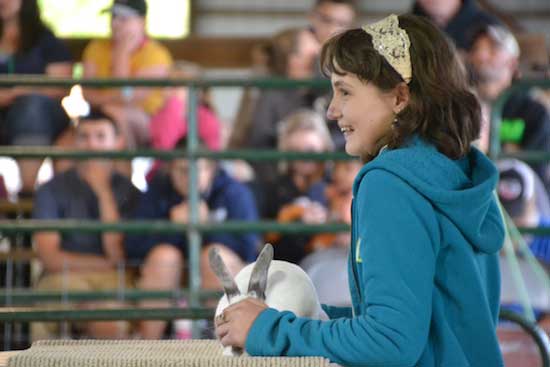 Joan Gabalski, 14, of Byron smiles as the bids climb for her rabbit. It sold for $140 to Hurd Orchards.
Her brother John, 17, had the highest bid for a rabbit at $350. Herman Weber of HLW Acres paid that price for one, while Gabalski sold a second rabbit for $200 to David Piedmonte of Holley.
John sent hand-written letters recently to both Weber and Piedmonte, encouraging them to attend the auction and thanking them for their support last year.
Piedmonte said he wanted to support a 4-H'er and reward the efforts in raising and caring for an animal.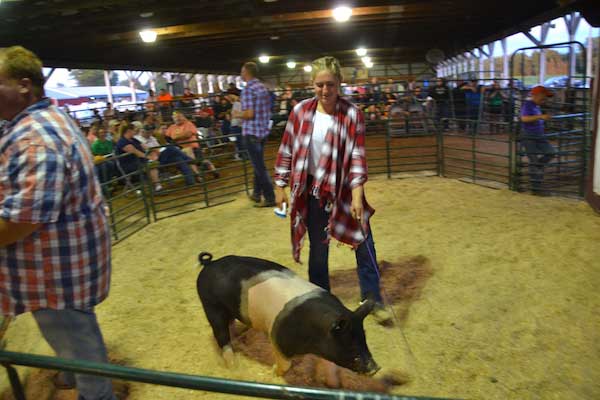 Melissa Robinson of Albion raised this 178-pound pig that sold for $3.50 a pound or $623 to Lamb Farms of Oakfield.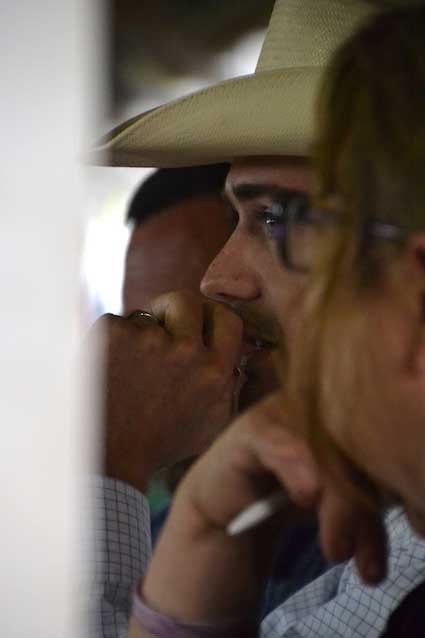 Robert Bannister, a former Orleans County 4-Her, served as auctioneer. He is joined in the auctioneer's booth by Skip Lear and his wife Gloria Lear.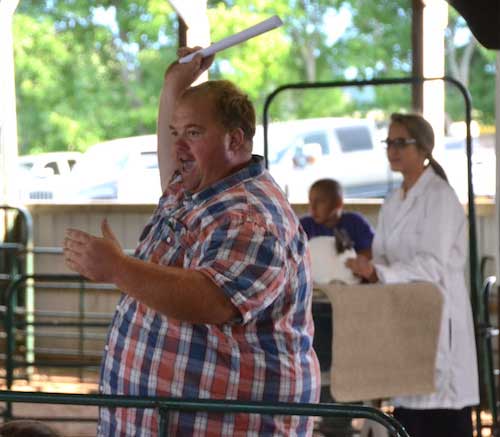 Andy Beach gives an enthusiastic affirmation of a bid for a rabbit raised by Grace Gregoire of Murray. Joe Sidonio paid $105 for the rabbit. Sidonio's daughter Amelia is the in the rabbit program through 4-H.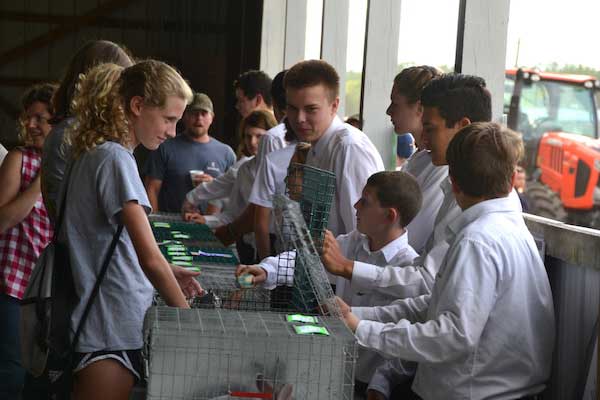 Some of the rabbit raisers talk before the auction. There were 21 meat rabbits in the auction, the most popular animal.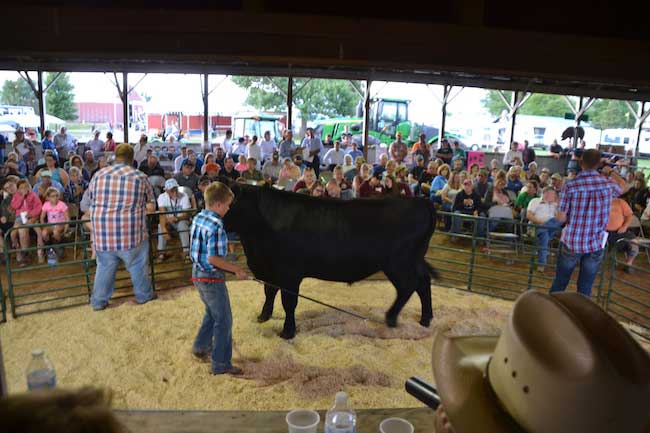 Carter Kuipers, 10, of Byron leads the grand champion steer in the ring. Western New York Energy paid $2.10 a pound or $2,856 for the 1,360-pound animal.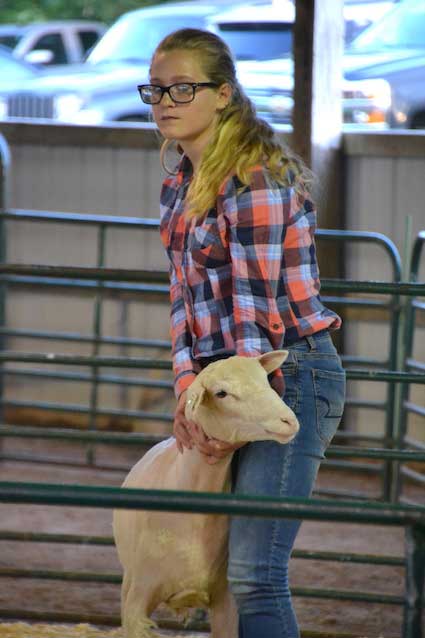 Lillian Mathes of Barre has an 87-pound lamb that sold for $174 to Ed Roggen, a meatpacker from Basom.

Lisa Beam of Waterport has a 185-pig in the auction that sold for $2 a pound or $370 to Kast Farms in Albion.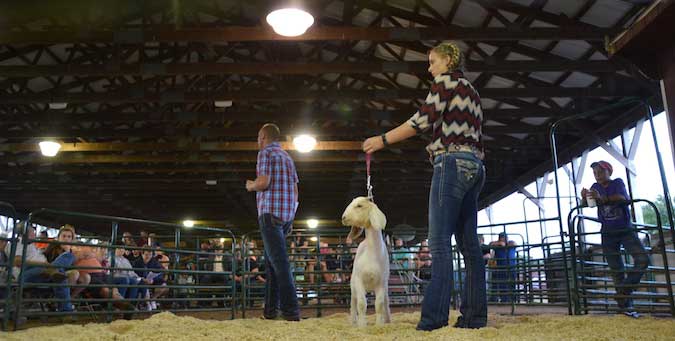 Nicole Mrzywka of Holley has the grand champion lamb which sold for $3 a pound or $258 to Ed Roggen.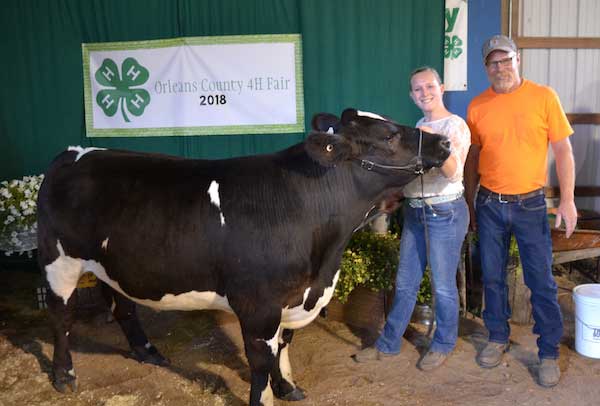 Rylie Lear of Waterport is pictured with Kurt Dudley of Hu-Lane Farms in Albion. Hu-Lane paid $1.85 a pound or $2,025.75 for the reserve champion steer.
Hugh Dudley, one of Hu-Lane's partners, said the farm wants to support the 4-H program, where the kids put in numerous hours raising the animals, and then incur expenses to show the livestock at the fair. The buyers all paid well above the market price for the animals.
"You want to give the kids an incentive to keep doing what they're doing," Dudley said. "The kids have a lot of time with them."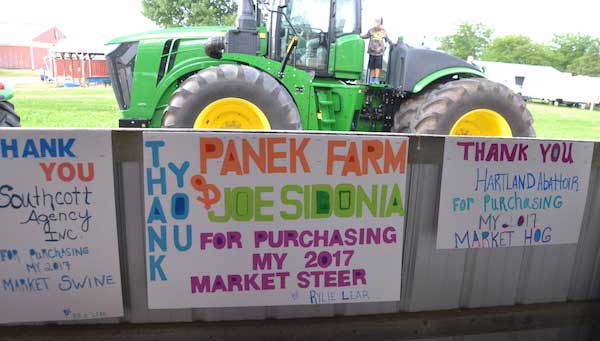 Rylie Lear and other 4-H'ers displayed signs thanking buyers from last year's auction.