Businesses welcome chance to meet public at Home & Garden Show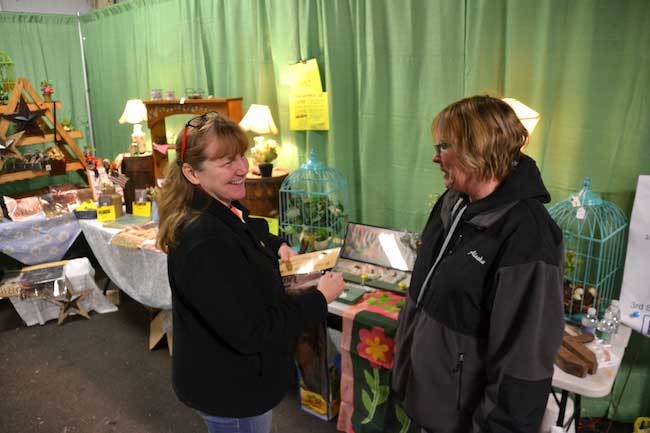 Photos by Tom Rivers
KNOWLESVILLE – June Chippendale, owner of Antiques & Rusty Relics in Fancher, chats with her friend Terri Martinez during today's Home, Garden & Outdoor Show. The Orleans County Chamber of Commerce has organized the event with 40 vendors at the 4-H Fairgrounds. The show is open today until 6 p.m. and Sunday from 10 a.m. to 4 p.m.
Chippendale is attending her first Home Show as a vendor. She was there to promote an upcoming wine tasting and flea market at Antiques & Rusty Relics on April 22.
"I'm here to pump up business," she said. "I want to get more people to know where we are on Route 31."
Chippendale was pleased to make some sales early on Saturday at the Home & Garden Show. She is selling garden flags, enamel buckets, burlap, antiques and other garden items at the show.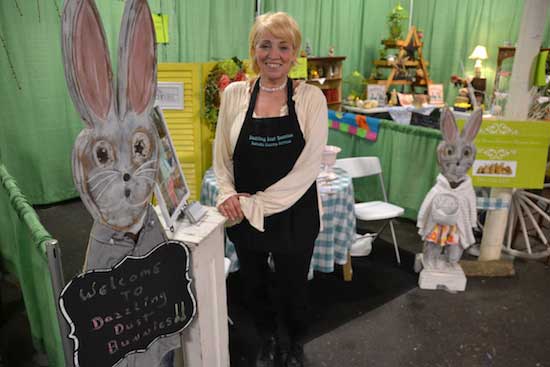 Evie Hurt, owner of the Dazzling Dust Bunnies cleaning service, is among the 40 vendors at the Home & Garden Show. Hurt started the business in 2014 and now has four employees.
"This is a way to get face to face with clients," she said about attending her first Home & Garden Show as a vendor.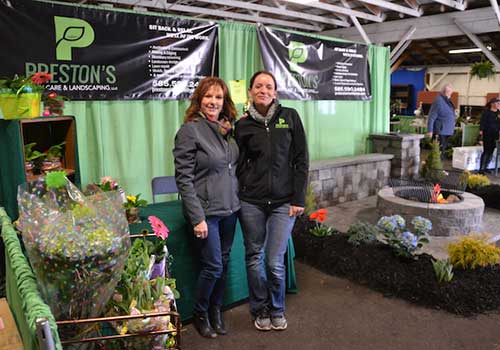 Marie Preston and her daughter-in-law, Nadine Valentine, were at the booth for Preston's Lawncare & Landscaping, which opened two years ago. The business has added a greenhouse on Zig-Zag Road in Albion.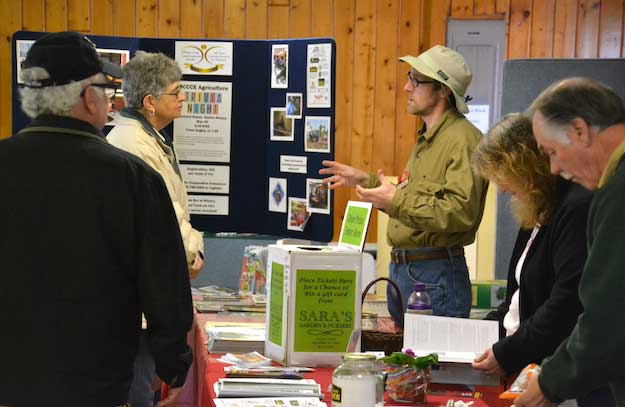 Michael Klepp, a master gardener known as "The Plant Man," answer a question from Grace Denniston at the Master Gardener's booth.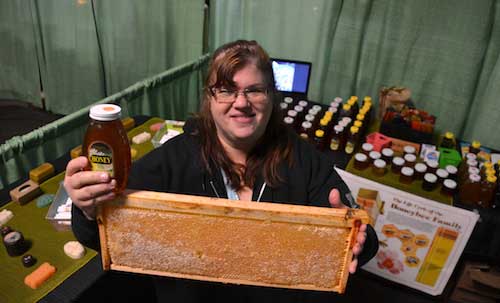 Darcia Golda represents Sunrise Bees on McNamar Road in Barre. Sunrise has 1,000 hives and 40 varieties of honey. The business is owned by Eric Doud and Kevin Bezon.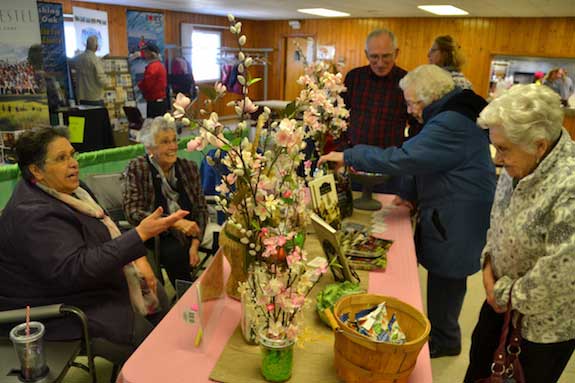 Holly Ricci-Canham, left, is selling copies of her book, "Mom & Pop Farming in Orleans County, New York – The past brought to life." She is pictured with her mother "Mike" Ricci and husband, Bud Canham, in back. They are chatting with Jane Sidari, right, and Irene Rouse of Albion.
The Home & Garden Show continues on Sunday from 10 a.m. to 4 p.m. and includes a visit by the Easter Bunny from 11:30 a.m. to 1:30 p.m., and an Easter egg hunt beginning at noon for children ages 10 and younger.