Businesses happy to open doors again on Main Street in Medina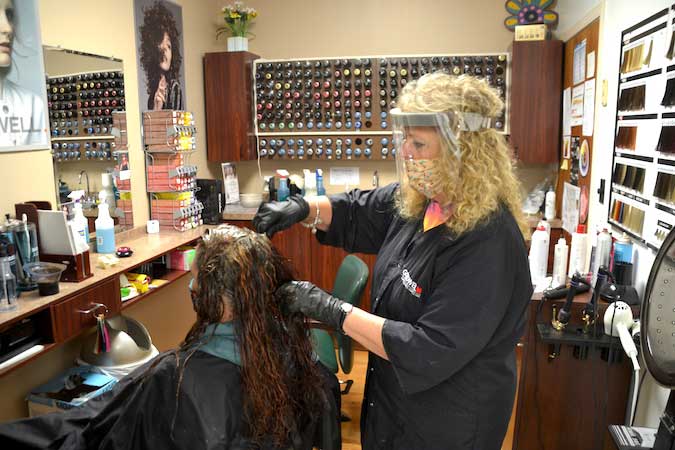 Photos by Tom Rivers
MEDINA – Edee Hoffmeister has been a hairdresser for 40 years. Today was the first day she wore a mask and also a face shield while working. It's required by the state.
"I hate it," said Hoffmeister, owner of Celebrity Day Spa. "I feel very claustrophobic. But I'm very happy to be open. I'll do what I have to do."
Hair salons and barbers have many restrictions as part of Phase 2 of the state reopening the economy. People who enter the business are given a temperature check when they step inside. If it's a 100 degrees or more, they aren't allowed to stay inside.
They are asked if they have had any Covid-19 symptoms the past two weeks — cough, fever, chills, or loss of taste or smell.
They are asked if they have had a Covid-19 test in the past 14 days, or if they have been in close contact in the past 14 days with a person who is confirmed or suspected to have Covid-19.
Hoffmeister and her staff also have to have a Covid-19 test every two weeks. She took one in Batavia on Friday.
Her business is significantly curtailed, however. She can cut hair and color it, but she can't do nails, facials, pedicures or body treatments. She can't trim a beard.
After a haircut, she has to disinfect the chair and counter and wait 10 minutes before the next customer.
Hoffmeister has been preparing for today for several weeks.
"I've taken many, many webinars to keep our customers safe," Hoffmeister said.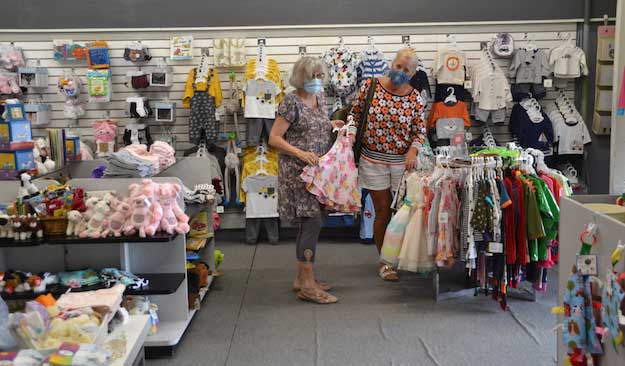 Jaye Sullivan, left, shows Julie Harrington some of the dresses in the infants' clothing section at Blissett's Specialty Shop. Sullivan, owner of the business, sells wedding dresses and formal gowns, and also rents out tuxedos.
She said she will have to disinfect any dresses that are tried on. She will use a steamer to do that before the dress can go back on the rack.
She will be doing appointment only for people to look through the formal clothing.
"I think it's going to be a long time before the businesses get the traffic back to where it was," she said.
Sullivan said many weddings have been rescheduled for next year with some pushed back to 2022. Some of the weddings are going on this year, but in front of small crowds with receptions scheduled for later in the year when the restrictions on crowd sizes are expected to be larger. Right now, the maximum gathering is limited to 10 people.
Businesses also are going to have to do more work with cleaning and disinfecting inside their shops.
Harrington, the customer pictured from Lyndonville, was shopping for a dress today for her granddaughter. Harrington drove down Main Street and noticed more cars parked in the downtown.
"It's nice to see more people out," Harrington said.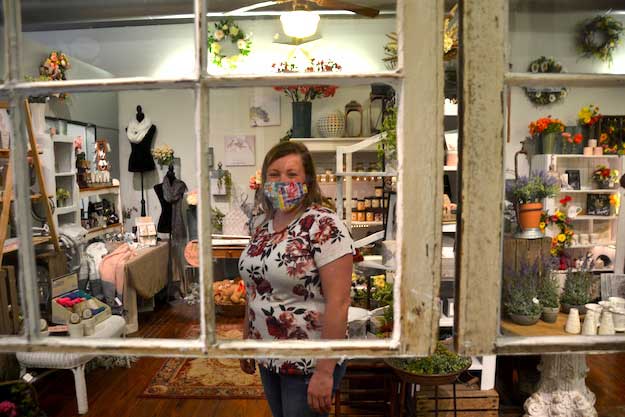 Mary Lewis, owner of Creekside Floral at 509 Main St., is pictured looking through a window that hangs down as a glass partition in front of the registers.
Lewis wanted something besides plain Plexiglass as a partition. Her employees are wearing masks and hand sanitizer is available in the store. She will limit the number of people inside, but Lewis said that is seldom an issue.
She also has color-coded phones so the same employee answers the same phone each shift.
She has been doing curbside pickup and making deliveries the past 10 weeks, before opening the doors of the store today to the public.
"It feels sort of normal," she said. "It's nice to see people. It's refreshing."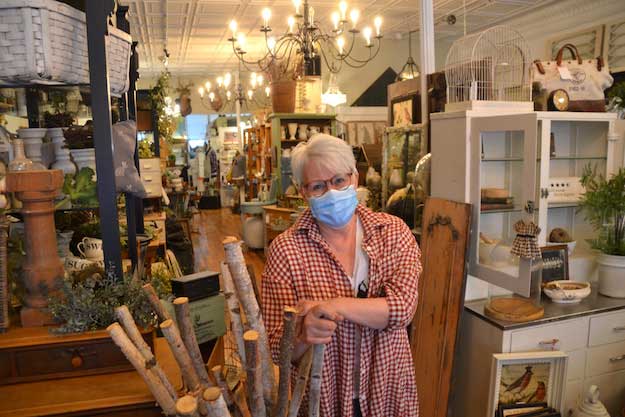 Lynne Brundage, owner of ellen j goods, greeted customers today at the shop with vintage and antique furniture and home décor. She ellen j goods opened seven years ago. Brundage and her employees are wearing face masks.
She posted a sign on the front door, urging customers to wear a mask if they enter the store at 435 Main St. She has hand sanitizer by the front door.
"People are excited to come in and browse," she said.
Brundage kept busy the past 10 weeks by shipping items throughout the country. She did more Facebook videos and Instagram posts to highlight items. Today she was happy to see people in person.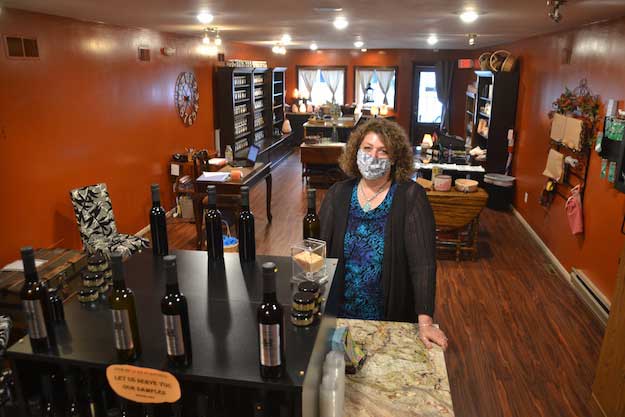 Bonnie Heck, owner of Herbalty Cottage, welcomed customers back inside the business at 415 Main St. She sells high-grade organic herbs, teas, balsamic vinegars, gourmet oils and other natural products.
The store was closed to the public the past 10 weeks, but people could order by phone. Heck would set the orders outside by the door. She was happy to have people back inside today.
"It feels good to be here," she said. "We've missed our customers and clients."
Heck is wearing a mask inside and asking her customers, too, as well.
She has hand sanitizer for when people enter the store. She will add floor decals on Monday that encourage people to stay six feet apart.
She has reduced the capacity in the store, allowing up to six inside the main store room. She won't be doing any in-store tastings during Phase 2.
She has a Himalayan Salt Room, and has reduced the capacity from six to three people.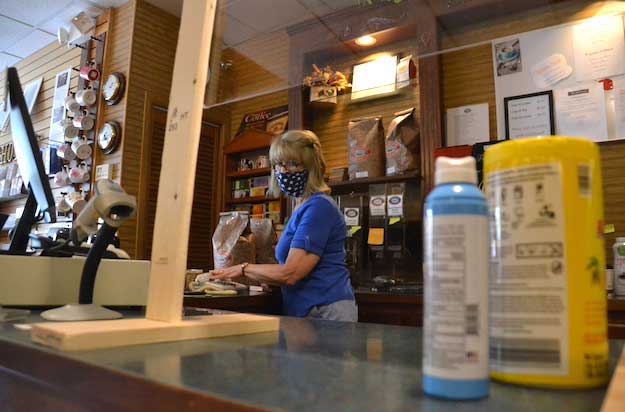 Gloria Fierch, owner of The Book Shoppe, is shown looking through the partition on the front counter, where she also has hand sanitizer and cleaning wipes.
Fierch and her husband Fred bought the book store on Dec. 2. She said people seem a little leery to be out shopping inside stores, due to concerns about Covid-19. She has been handling many orders through deliveries and by shipping books and gifts.
"It's a big relief," she said about the store opening its doors once again.
She takes Covid-19 seriously and urges the community to continue to take precautions.
"We need to continue to take measures to combat this so we can move on," she said.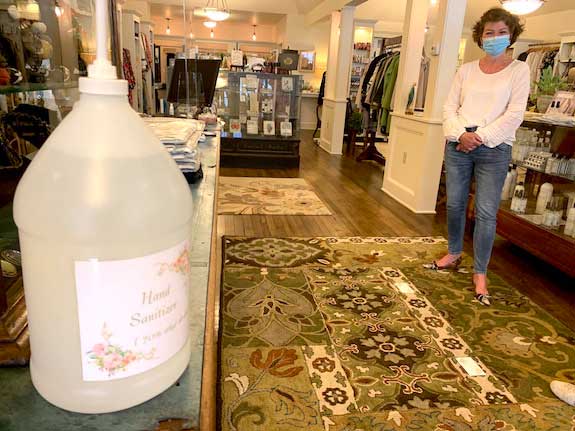 Laura Gardner owns a lily and a sparrow at 438 Main St. She gave her hand sanitizer a floral design, and her decals on the floor, showing six-feet separation, also have a floral design.
"It's just a different way of doing things," she said.
Gardner doesn't have any employees at the store, which sells designer clothing, leather handbags, perfume, jewelry, vintage glassware and note cards.
She made some sales during the 10-week shutdown, posting products on social media and shipping them through the Postal Service.
"It wasn't a sustainable way to do business," she said. "I'm a brick-and-mortar store."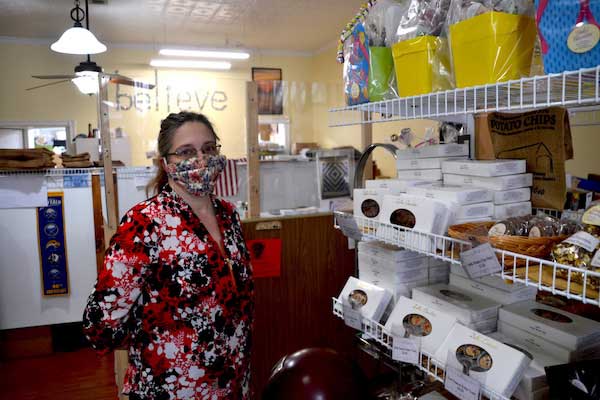 Susan Fuller, owner of Della's Chocolates, was able to stay open the past 10 weeks because she is considered a food business. She has run the operation by herself, without any employees.
She put in a partition by the cash register and stepped up the cleaning. She also wears a face mask.
She has done deliveries, curbside service and shipped her chocolate and candy. She is glad more of her neighboring businesses are now open, too.
"If you're creative, you can make it," she said about a challenging time to be in business. "It's good it's starting to get back to normal, although it will be a new normal."