Building Trades students earn certifications in partnership with roofing company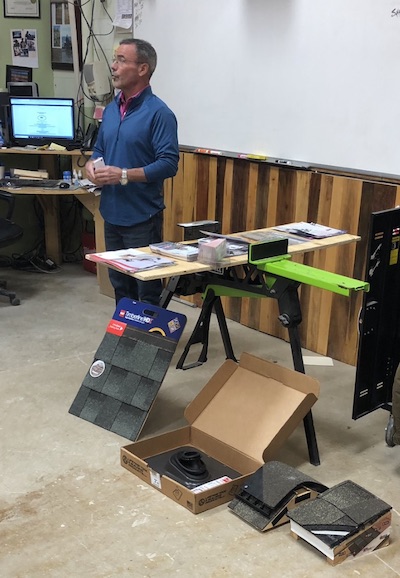 Press release and photo from Orleans/Niagara BOCES
MEDINA – Building Trades students at the Orleans Career and Technical Education Center will now have the opportunity to get roofing certifications through a new partnership with GAF Roofing Materials.
Teacher Matt Anastasi had Regional Representative Anthony Vallance talk to his classes about trainings, workshops and materials that GAF uses and promotes.
Vallance offered the students the opportunity to get certifications that will allow them to get the expertise in understanding the proper installation of their roofing system.
"We were connected with GAF through our local roofing supplier Tom Snyder at Medina Lumber," explained Anastasi. "There are several levels of trainings that contractors and my students will now have the possibility of obtaining. Through this connection we are hoping to have students gain a certification that means any work they perform on a house using the GAF systems will gain the homeowner extended warranty for both materials and labor."
Vallance had mentioned to Anastasi that he will provide the class with materials for the students to practice installations and roof tear-offs to allow further knowledge and trainings before they complete the Habitat for Humanity modular house they are working on in class.
Vallance has also reached out to Habitat for Humanity to start the process to have all the materials donated as part of a program that GAF offers.
"GAF also has an online portal that my students will be able to enter their contact information and allow certified contractors in the area to connect with them for potential jobs," Anastasi said.  "His knowledge and training materials that he has offered are really going to help my students become more qualified in this very high demand workforce area in roofing."