Brushstrokes praised for providing family-friendly entertainment
Tim and Crystal Elliott receive award for 'New Business of the Year'
MEDINA – The Chamber of Commerce's "New Business of the Year" allows people of all ages to tap into their creative side.
Brushstrokes Studio opened last Nov. 28. Since then, customers have created more than 5,000 ceramics or glass fused art. Many of the pieces resembles sharks, caterpillars and other creatures feature din children's books.
Brushstrokes hosts many story hours, and children can paint ceramics that look like the main star in the books, such as "The Very Hungry Caterpillar" by Eric Carle.
Brushstrokes is popular for birthday parties, bridal showers and for outings among friends, looking to create a nice memory in a family friendly environment.
Mrs. Elliott, a special education teacher for the Holley school district, said the ceramics and glass fused art are durable with a personal touch.
"This are all unique and they last," she said. "And they're useful."
A ceramic spoon rest is the most popular mold picked by customers.
"We've also done lots and lots of coffee mugs," Mrs. Elliott said.
Many of the creations include hand prints or foot prints from small children. Those plates, mugs and other ceramics are then popular for Father's Day and Mother's Day gifts, and for presents for grandparents.
"There's a lot of memories with these," said Mr. Elliott, a village trustee who also owns and manages properties in Medina. He also is co-owner of a new escape room that opened on Main Street, where people need to solve puzzles to get out.
Elliott said he is interested in bringing more people to Medina to help strengthen the local businesses. Brushstrokes draws many customers from outside the county, who then visit other local businesses. Brushstrokes has partnered with some of the businesses in promotions.
The Elliotts have a bright-colored space at Brushstrokes. They have enjoyed seeing people make so many different ceramics and fused glass, showing an artistic side many didn't realize they had.
Although you don't need to be artistic to paint and create at Brushstrokes, the Elliotts have classes teaching some basics in bubble painting and color blocking. They are planning more classes this upcoming year.
They have also expanded their inventory and color options from 30 to 70. After the ceramics are painted, they are glazed, dried and put in a kiln, bringing out vibrant colors.
Brushstrokes also has a glass kiln for artwork and pieces made with glass fusing. The Elliotts say they already have many dedicated customers, and people interested in classes to learn techniques and hone their skills or just have fun.
"People want something new to do," Mr. Elliott said. "You get a tangible item to take home."
The Chamber of Commerce on Friday presented the 'New Business of the Year' to Brushstrokes. They were among the award winners recognized during the Chamber's annual awards banquet at Tillman's Village Inn.
The Elliotts were praised for offering a family-friendly activity in downtown Medina, and a for starting a business that draws many out-of-towers to the community.
"It's entertainment whether you are 2 years old or 100," Mr. Elliott said. "You can create a memory."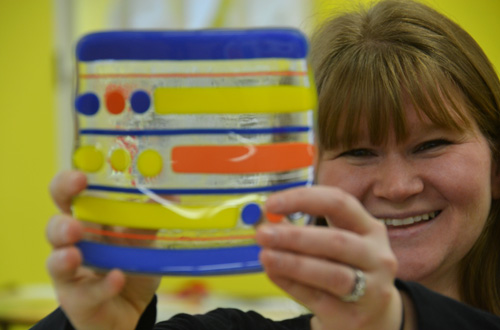 Crystal Elliott holds one of the glass fused pieces at Brushstrokes. With glass fusing, glass plates and strings of glass are melted in a design and then can be bent with curves. Before the business opened, Mrs. Elliott worked on Brushstrokes for about 2 1/2 years, wanting to give families an activity they can do together. She completed a small business class through the Orleans Economic Development Agency.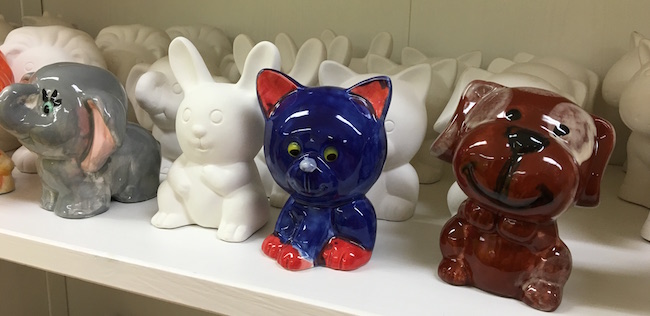 Brushstrokes has many ceramic animal molds. After they are painted, they are glazed, dried and put in a kiln, bringing out vibrant colors.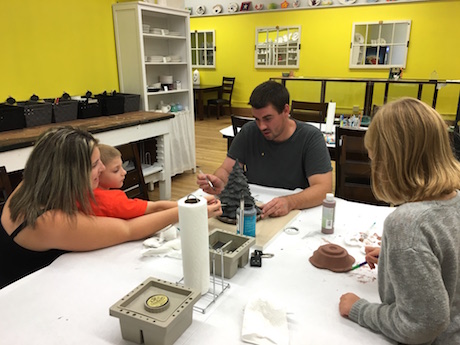 Mitchell Farley of Medina paints a ceramic Christmas tree on Saturday with his family, including wife Jessica and their children, Jacob, left, and Madison, right.