Bonfire, snow events return to Bullard today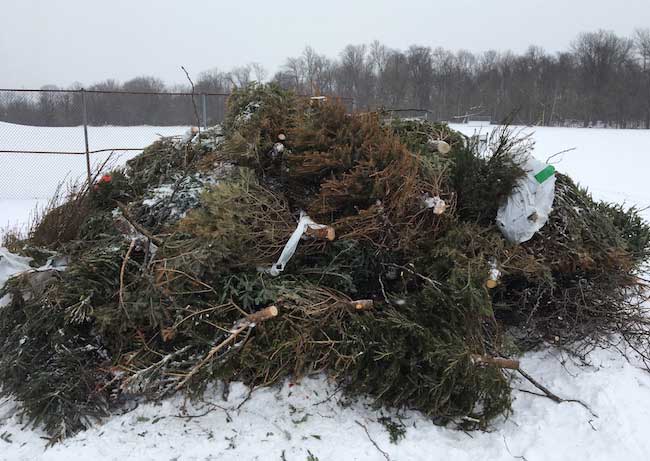 Photo by Tom Rivers
ALBION – Christmas trees are piled up at Bullard Park on Friday. Today they will be set on fire in a bonfire at the park.
Bullard is hosting sledding, snowboarding and snowman building competitions at the park today from 3 to 7 p.m. Winners for all contests will be announced immediately prior to the lighting the bonfire. All contests and games are free.
At 3:30, the contests start with sledding until 4 p.m. Judges will be measuring distance for sledders from the top of the hill. That is the same for the snowboarding contest from 4 to 4:30 p.m.
There will be a snowman building competition from 4:30 to 5:30 p.m.
Albion has hosted winter games at Bullard twice before, but this is the first time there is lots of snow on the ground.
"We've never had the proper weather to do this," said Kim Remley, one of the organizers. "Last year there was no snow."
There will also be kiddie games at Pee Wee Park, the little kids' section of Bullard, from 3 to 5 p.m.
At 6 p.m., the trees will be set ablaze for the bonfire.
There is also free hot chocolate and S'mores while supplies last. Other food items will be available for purchase.
The Village of Albion, the Albion Fire Department, Energize Albion, the Albion Merchant's Association and United Structural, LLC have organized the event at Bullard.