Bomb Squad removes flare that washed up on shore in Kent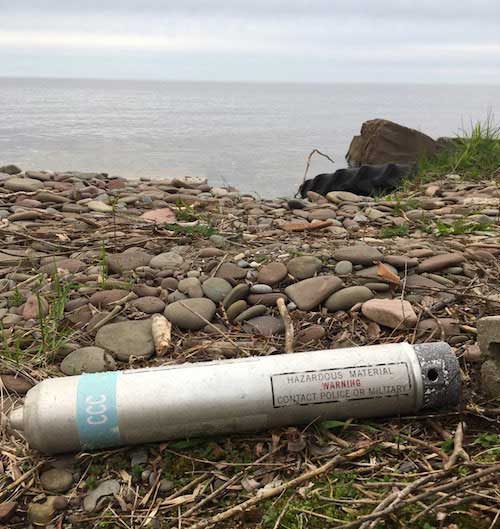 Photos courtesy of Lindsay Fredendall
KENT – The Monroe County Bomb Squad was called to Orleans County on Saturday to remove a flare used by the Canadian Navy. The flare was found along the shore on West Jones Beach Drive.
Lindsay Fredendall and her children were visiting family when they found the flare at about 7 p.m. She called 911 and the Orleans County Sheriff's Office responded along with the Bomb Squad.
The flare was packaged up and removed at about 9:30 p.m.
Mike Mele, chef deputy for the Orleans County Sheriff's Office, said flares occasionally wash up along the shoreline in Orleans County.
The flares don't always had a complete burn. In those cases, if they dry out, they could reignite. The one on Saturday was empty, Mele said.
"We want to warn lakeshore residents if you are out walking and see one, call 911," Mele said today. "If you come across one, don't touch it."
Mele said three of the military flares washed up in Orleans County last year. The flares are contained in an 18 ½-inch aluminum cylinders.