Black Lives Matter demonstrators see racism in Orleans County and USA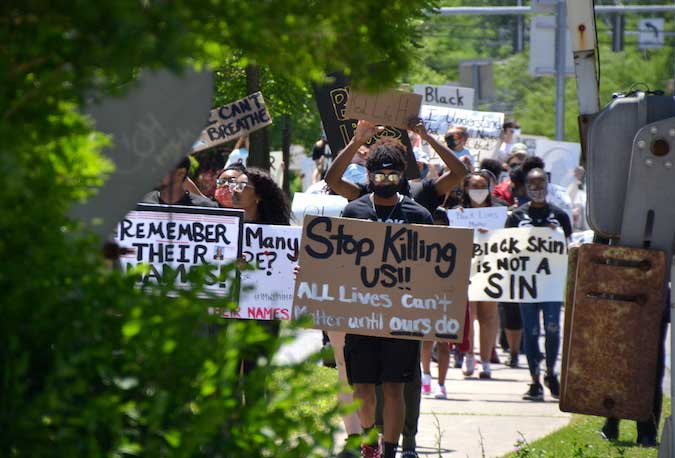 Photos by Tom Rivers
ALBION – Black Lives Matter demonstrators carry signs in a walk from the intersection of routes 98 and 31 down Main Street to the Orleans County Courthouse lawn.
They were responding to the recent deaths of George Floyd, Breonna Taylor and Ahmaud Arbery which have spurred nation-wide protests.
About 75 people participated in the demonstration in Albion, and they said racism exists in other ways in Orleans County, from fewer job opportunities for minorities to hearing racial slurs that start in the elementary school.
(Click here to see the demonstrators walking on a sidewalk down Main Street, chanting, "No Justice, No Peace.")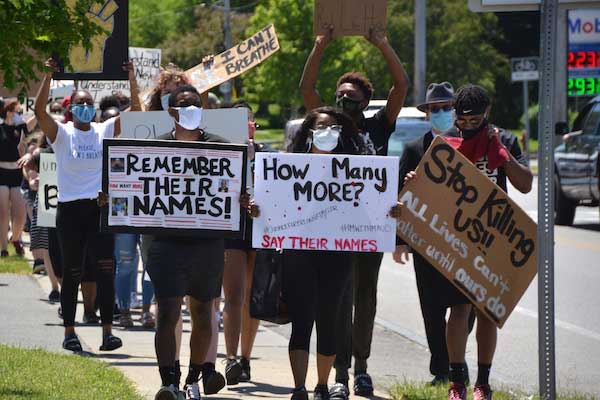 Marquise Riddick, left, and Eboni Taylor, center, both graduated in the Class of 2013. They are college educated and both want to be teachers.
The two friends said they felt compelled to have a Black Lives Matter event in Albion. They were encouraged to see 75 people attend, and have numerous people beep their horns in support.
Taylor said Orleans County should push for more diversity in the police departments and Sheriff's Office. She would like to see more black teachers and minorities "in official positions."
Taylor, 25, graduated from Syracuse University. She works at a childcare center in Albion.
Riddick earned a degree at Brockport State College. He wants to be a physical education teacher.
He attended a protest on May 30 in Rochester and he said it was an empowering event.
"It was really inspiring how everyone came together in Rochester," he said. "I wanted there to be one in the community where I grew up in."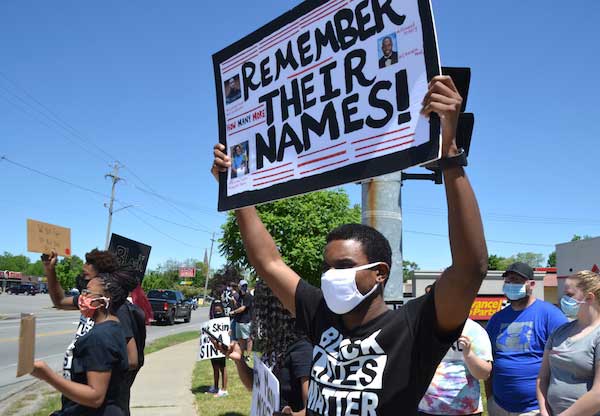 Marquise Riddick, who organized today's Black Lives Matter demonstration, holds a sign – "Remember Their Names" – that highlights the deaths of George Floyd, Breonna Taylor and Ahmaud Arbery.
Floyd died in custody of a Minneapolis police officer on May 25. Floyd was on the ground and died after being held down for nearly nine minutes while an officer had his knee on Floyd's neck.
Breonna Taylor was 26 when she was fatally shot on March 13 by Louisville Metro Police Department, who forced entry into her apartment on a no-knock search warrant. Her boyfriend fired at the officers, who he thought were intruders. Taylor was shot eight times. She worked as an EMT and would have been 27 on Friday.
Ahmaud Arbery was unarmed on a jog in Georgia when he was confronted by two white residents, Travis McMichael and his father Gregory, who were armed and driving a pickup truck. Arbery was shot and killed.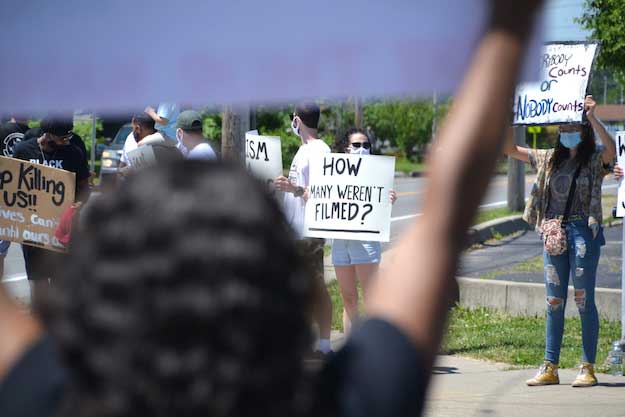 Eboni Taylor holds up a sign and other demonstrators can be seen across the street.
Ray Paull, 18, of Medina attended the demonstration and held up a Black Lives Matter sign. Paull, a white student at Oswego State College, said he hears from his black friends in Medina and Oswego how terrified they feel if they are ever stopped by police.
Paull said he wants to support the Black Lives Matters movement. "It's not acceptable for injustices to keep happening," he said.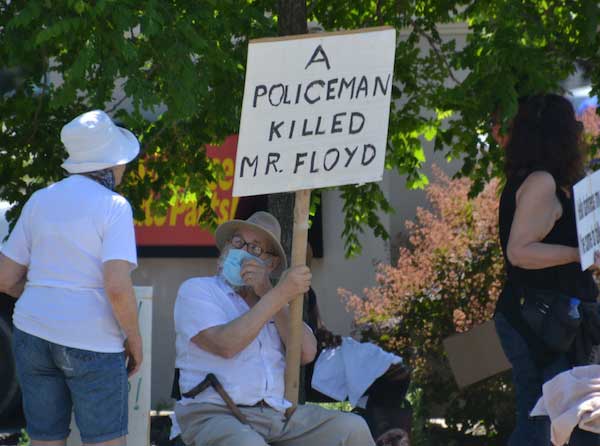 Dennis Seekins of Lyndonville joined the demonstration in Albion. He thanked the organizers for giving the local residents a chance to express their support for Black Lives Matter.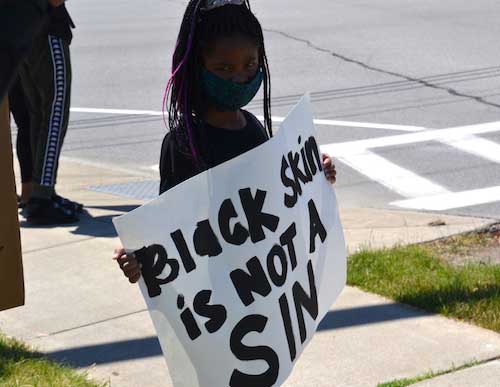 A young demonstrator holds a sign near Albion's busiest intersection.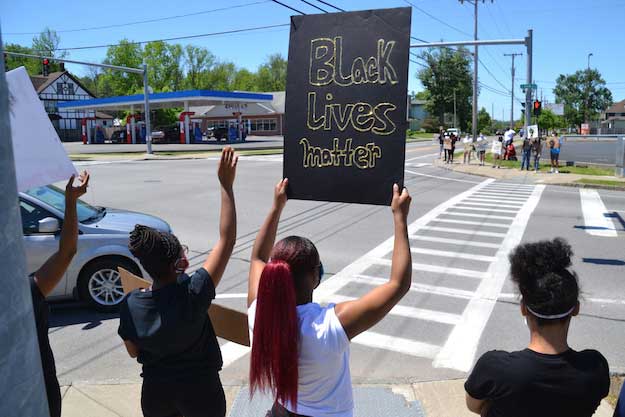 Chanyce Powell, a 2017 Albion graduate, holds a Black Lives Matter sign during the demonstration.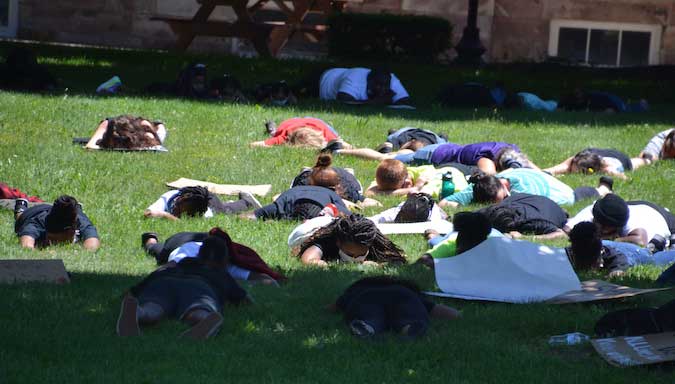 After a walk from the intersection to the Courthouse Square, the group laid down for 8 minutes and 46 seconds. That's how long George Floyd was on the ground on May 25, while the officer had his knee on Floyd's neck.
Marquise Riddick shared Floyd's words and pleas for help before his death. A video of Floyd in anguish and then becoming unresponsive has resulted in nationwide protests.
(Click here to see Riddick recount Floyd's last words.)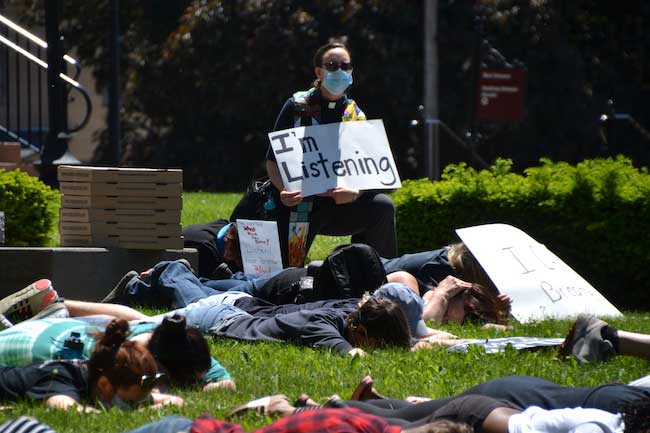 Pastor Aleka Schmidt of the First Baptist Church attended the demonstration and holds the "I'm Listening" sign. The participants are lying face down for 8 minutes, 46 seconds as a tribute to George Floyd. The pizzas near Schmidt were donated by Crosby's.
White people were urged to speak out if they see or hear racist comments among their friends and family, and to work against institutional racism.