Billboard on Thruway promotes 'The Oak' and fishing in Orleans County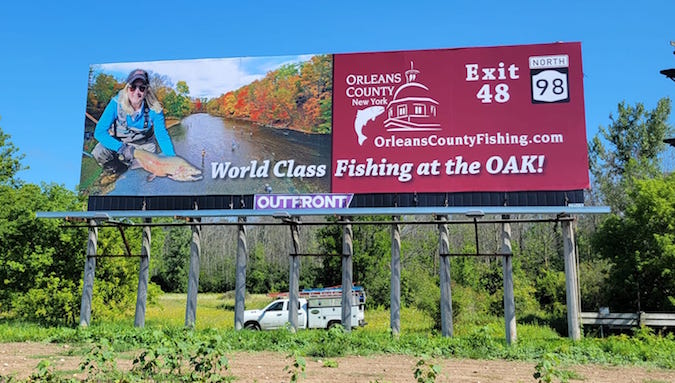 Provided photo
BATAVIA – A new billboard has been installed along the Thruway near the Batavia exit, promoting fishing in Orleans County, in particular, the Oak Orchard River.
The billboard is just east of the Batavia exit on the northside of the Thruway.
The County's Tourism Department has a two-year agreement with Outfront Media in Boston, Mass. for the billboard. The design will change every six months.
Outfront will be paid $28,600 over the two years with the money coming from the American Rescue Plan Act. Guidelines for  using the funds allow the federal dollars to be used to promote tourism.
The county has transferred $67,978 in American Rescue Plan funds to the Tourism Department.
County officials want to better promote the fishery, which is the county's top tourism attraction.
A survey in 2017 by the state Department of Environmental Conservation put the total economic impact from fishing in Orleans at $27,989,393 in 2017, according to survey results. Out-of-state anglers account for 70 percent of the fishing economic output in Orleans County, $19,620,488 of the $27,989,393. County residents who fish accounted for $1,767,334 in economic activity while other New York state residents outside Orleans represented another $6,601,571.
The DEC report also ranks which species of fish the anglers were primarily trying to catch. The survey reports that 23 percent said they were primarily fishing in Orleans County for Chinook salmon, with 20 percent saying were after brown trout. Another 18 percent said largemouth bass were their primary target and 14 percent said steelhead/rainbow trout.