Big turnout for golf tournament honoring Wounded Warriors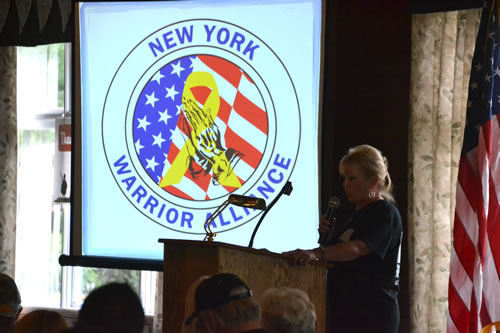 HOLLEY – Hickory Ridge Golf Course hosted its fifth annual "Honoring Heroes" Golf Tournament on Sunday. Cindy Diehl, co-owner of Hickory Ridge, welcomes a big crowd at dinner to the event, which raised money for the New York Warrior Alliance.
The first four golf tournaments events raised $57,000 to assist wounded American soldiers and their families.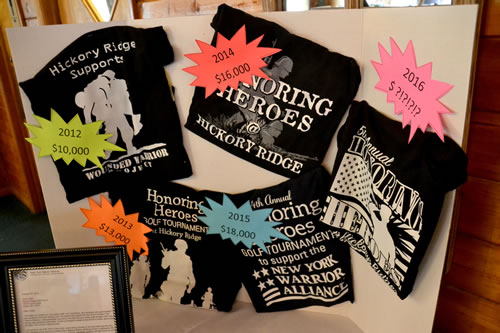 The fund-raising totals have increased each year from $10,000 in 2012, $13,000 in 2013, $16,000 in 2014 to $18,000 last year. The total from yesterday isn't available.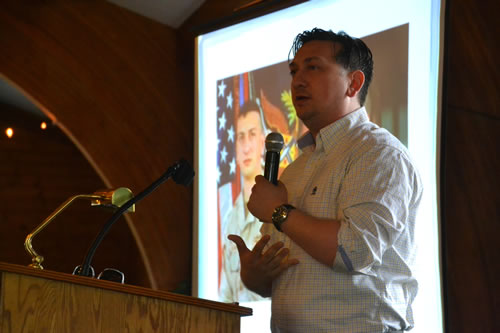 Lyndonville native David Bellavia, an Iraq War veteran with the U.S. Army, was keynote speaker during Sunday's banquet at at golf tournament. Bellavia was awarded the Silver Star for his actions during the Second Battle of Fallujah. He wrote about his war experiences in House to House: An Epic Memoir of War.
Bellavia has been a leader in advocating for veterans from the Iraq and Afghanistan wars through Vets for Freedom.
Bellavia said he is proud of Orleans County and how the community rallies around veterans, whether at the Hickory Ridge golf tournament, or standing in bitter cold weather to welcome home a fallen soldier. He noted the county has a long record of sacrifice. Nearly 500 people from Orleans died in the Civil War. Holley had the highest per capita death rate for young men who died serving in the Vietnam War.
The county continues to have young men and women sign up to serve in the military, Bellavia said, calling them "the best of their generation."
Bellavia also praised the New York Warrior Alliance, the beneficiary of the golf tournament, for its work on behalf of injured veterans and their families. The VA is "overburdened," Bellavia said, and NY Warrior Alliance helps fill some of the gaps.
Amy Tausch, president of the NY Warrior Alliance, shares some of the group's outreach. NY Warrior Alliance started as a ministry at Northfield Church in Pittsford.
The all-volunteer alliance provides financial support and basic essentials for wounded warriors and their caregivers. Tausch and a group of volunteers each year take a mission trip to Walter Reed National Military Medical Center in Washington, D.C. and deliver supplies. Tausch noted that Carol Culhane of Albion is part of the annual trip and presents ornaments with her patriotic artwork to veterans.
For more on the NY Warrior Alliance, click here.
A big crowd turned out to support the golf tournament to benefit wounded soldiers.