Big turnout at pasta dinner to support Kendall junior firefighter, 16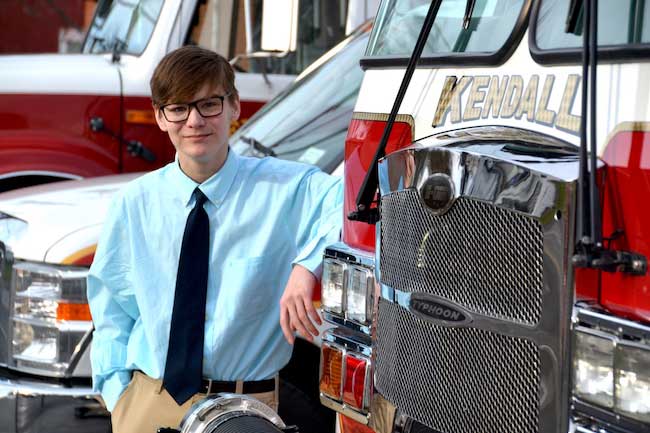 Photos by Tom Rivers
KENDALL – Payton Walters is pictured with a row of Kendall fire trucks this evening. The trucks were parked outside the fire hall to make room for a pasta dinner which was a benefit to support Walders and his family.
Payton, 16, sustained a concussion in a hockey game on Jan. 22. CT scans showed had an arteriovenous malformation (AVM) in his brain. This is a leading cause of stroke in younger people.
Payton received good news this week. He is a candidate for proton beam radiation in Boston. The radiation will help to resolve his tangled up network of blood vessels in his brain.
Walters became a Kendall junior firefighters about two years ago. He has at the fire hall every other Tuesday, doing some light training and helping with tasks around the fire hall. He said he enjoys the camaraderie of the firefighters.
"When I go over theory, he knows his stuff," said Jim Barrett, president of the fire department.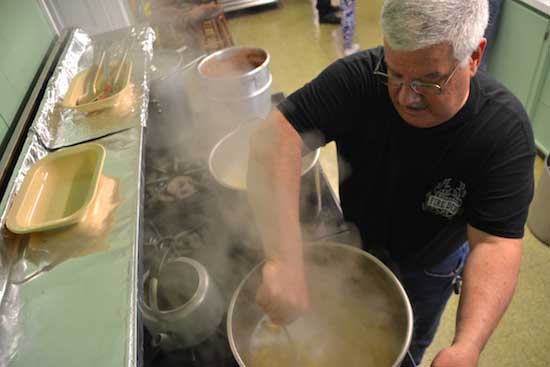 Jim Barrett stirs the pasta during today's dinner to benefit Payton Walters. Barrett said 200 dinners were sold in the first hour.
Payton said he appreciated all of the support in Kendall, as well as others in the region. Payton and his family moved from Flint, Mich. to Kendall 3 1/2 years ago. His mother, Dawnn, is a nurse and his father, Scott, makes prosthetics for a company in Buffalo. Payton said he enjoys life in a small town.
"I just want to thank everyone for all of the support in the community," he said. "You don't get this kind of support in most places."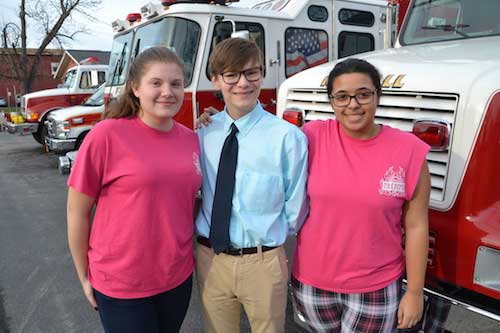 Payton is pictured with two junior firefighters, Emma Robb (left) and Sadie Howes.
"He's a nice kid who is always willing to help people out," Robb said. "Nothing seems to bother him."
Payton said he is "staying positive" as he awaits the next step in determining his treatment. He is thankful the headaches have gone away from his concussion. He struggled for about three weeks to be able to read and concentrate.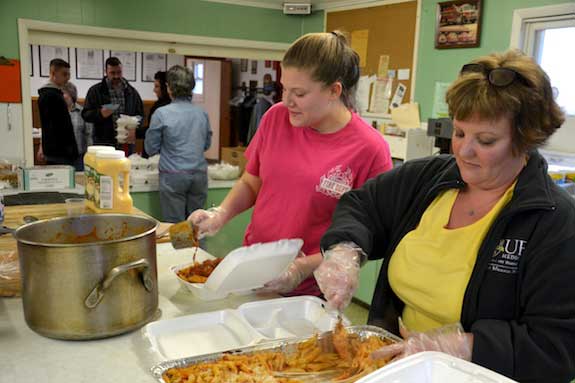 Emma Robb and Wendy Balka serve up pasta dinners this evening at Kendall. Balka's son Steven is also a junior firefighter.
Mrs. Walters posted this message on Facebook after the dinner tonight:
"Overwhelmingly amazing day. Thank you to the Kendall Fire Department and Auxiliary from the bottoms of our hearts. Thank you friends who came out for dinner to support us. There aren't enough ways to say thank you to express how blessed we feel to have all of you in our lives. I don't know how we can ever repay the generosity and love you have given us."