Big day arrives and voters are out early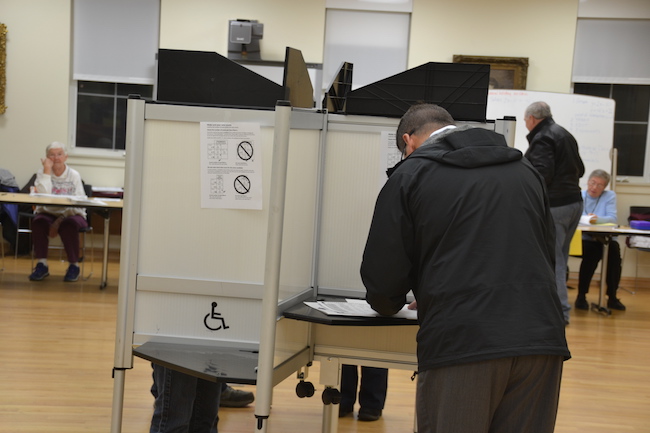 Photos by Tom Rivers
ALBION – Jeff Klips of Albion cast his vote today at about 6:30 in the morning at the Hoag Library, where election inspectors said there has already been a wave of voters. The polls are open until 9 p.m.
Election Day has arrived after a bitter presidential campaign between Donald Trump and Hillary Clinton.
Incumbent Charles Schumer, a Democrat, also is challenged for a U.S. Senate seat by Wendy Long, a Republican.
Congressman Chris Collins, a Republican from Clarence, faces a challenge from Diana Kastenbaum, a Democrat who is the CEO of Pinnacle Manufacturing Company Inc. in Batavia. The 27th Congressional District includes eight counties.
Candidates for the State Legislature are all unopposed, including Robert Ortt for State Senate, and Steve Hawley and Michael Norris for State Assembly. Hawley's district includes all of Genesee, a portion of Monroe and all of Orleans except for Shelby. Norris will succeed Jane Corwin in a district that includes Shelby in Orleans County, and portions of Niagara and Erie counties.
There are also two State Supreme Court justice seats open with the Democrats backing Lynn Wessel Keane and Grace Hanlon and Republicans endorsing Mary Slisz and Daniel Furlong.
Locally, most of the candidates are unopposed.
There are four candidates running for three coroner positions with Republican incumbents Scott Schmidt, Rocco Sidari and Charles Smith on the ballot with Katy Owczarczak, who has been endorsed by the Democrats.
This year, the district attorney is the highest-ranking position on the local ballot. Joseph Cardone of Medina has served as DA since 1992. He is endorsed by the Republican Party and doesn't face opposition for another four-year term.
The Republican candidates for town positions are all unopposed. They include:
Albion – Arnold R. Allen Jr. for one-year term on Town Board;
Carlton – Karen Narburgh for one-year term as town clerk;
Gaines – Sharon Harding for one-year term as town clerk;
Murray – Theodore Spada Jr. for four-year term as town justice.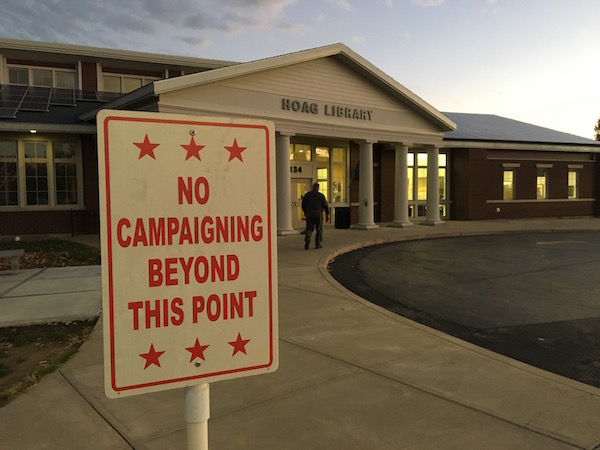 A sign outside Hoag Library sets the boundary for campaigning.