Big crowd turns out for Bellavia book signing in Medina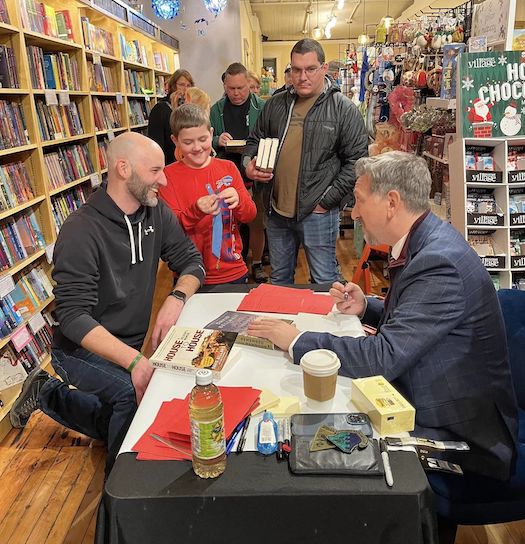 Provided photos
MEDINA – David Bellavia, right, signs a copy of Remember the Ramrods, during a book signing on Monday evening at the Author's Note bookstore on Main Street in Medina.
Todd Draper, a lieutenant with the Medina Police Department, is at left having the book signed as well as a copy of Bellavia's first book, House to House: An Epic Memoir of War.
House to House details Bellavia's experiences as a staff sergeant in Fallujah and describes the efforts of front line forces in urban combat against insurgents. (Draper also served in the Army and was deployed in the Iraq War.)
Remember the Ramrods tells the history of Bellavia's Army unit that fought together in Iraq, including where their lives took them after they returned home from war, and how reuniting when Bellavia received the Medal of Honor helped heal some of their still-present if less visible wounds of war.
The book-signing was scheduled to start at 7 and end at 9, but a long line formed before 6:30. More than 125 people attended the book-signing and Bellavia stayed past 10 p.m..
"David's energy was unflagging and his warmth toward every guest was authentic and sincere," Berry said. "He took his time with each guest, making them feel important. He let everyone touch his Medal of Honor, and even put it on if they chose, because he views it as a shared honor, not belonging to him alone."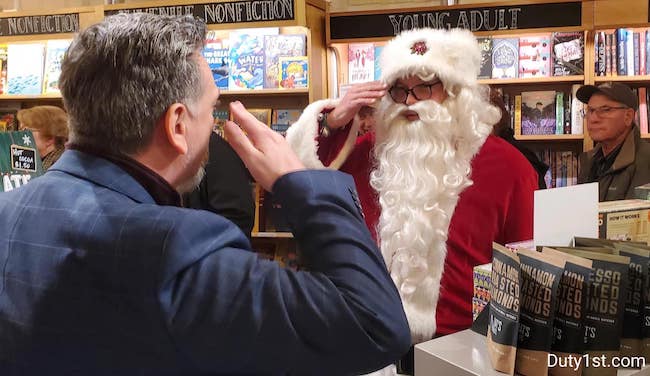 David Bellavia and the person in the Santa suit offer each other a salute.
Bellavia, a Lyndonville graduate, received the Medal of Honor on June 25, 2019, the first living American to receive the Medal of Honor for valor in the Iraq War.
Bellavia has two upcoming book-signing events:
Thursday at 7 p.m. at the Barnes & Noble, 4401 Transit Road Suite 800, Buffalo
Friday at 7 p.m. at the Barnes & Noble, Pittsford Plaza, 3349 Monroe Avenue, Rochester