Big boulders added along Lakeshore Road shoreline in Carlton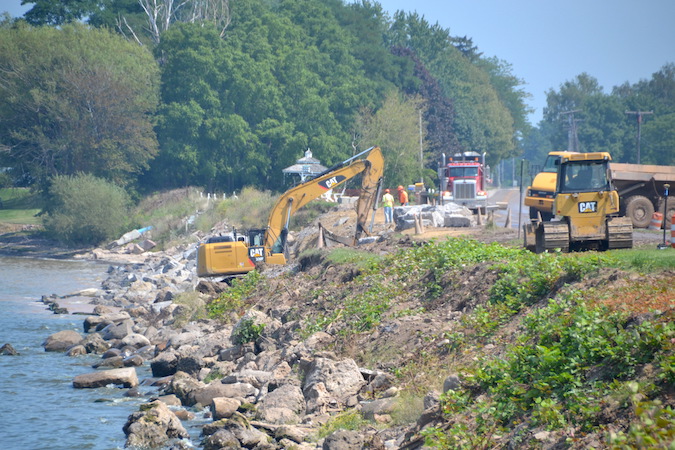 Photos by Tom Rivers
CARLTON – Keeler Construction in Barre has been trucking big rocks to Lakeshore Road in Carlton, part of a project to build a strong breakwall and harden the shoreline from erosion and future flooding from Lake Ontario.
It is part of a $2 million resiliency project that is 95 percent funded by the state's Lake Ontario Resiliency and Economic Development Initiative.
Construction started on the project last month. Keeler will be putting in big boulders along about 1,500 feet of the shoreline, going east from Route 98 in Point Breeze. The shoreline will also be regraded and will have a new vegetative cover to help stave off some erosion and damage from the waves.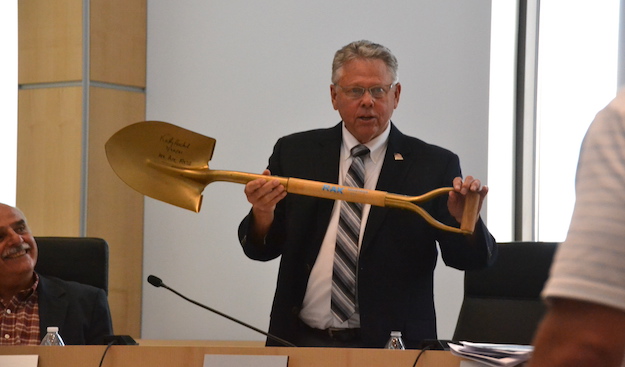 Orleans County Legislator Ken DeRoller on Wednesday during the County Legislature meeting holds a ceremonial ground-breaking shovel for the Lakeshore Road project. The shovel was signed by Kathy Hochul, who attended the ground-breaking celebration on July 26 in her role as lieutenant governor. On Tuesday, she took office as governor following the resignation of Andrew Cuomo.
She signed the shovel, "We are REDI," which stands for the Resiliency and Economic Development Initiative.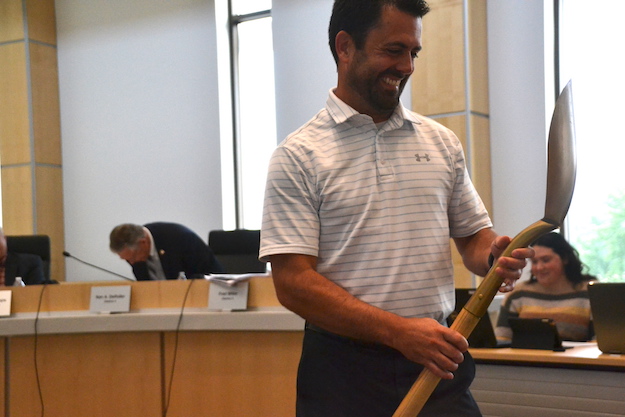 DeRoller on Wednesday afternoon presented the shovel to John Papponetti, the county DPW commissioner and engineer. He worked on some of the engineering for the project. He said he will keep the shovel in his office at the DPW on West Academy Street in Albion.