Big bass may been a record-breaker for Hartland boy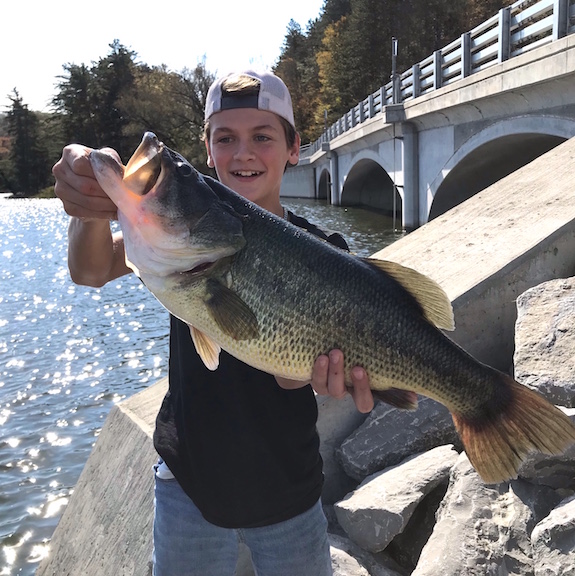 Photos courtesy of Justin Drees
Jackson Drees, 13, of Hartland holds a large-mouth bass he caught on Sunday at the Red House Lake at Allegany State Park.
The state record for a large-mouth bass is 11 pounds, 4 ounces. It was caught 35 years ago by John Higbie from Otsego County's Buckhorn Lake.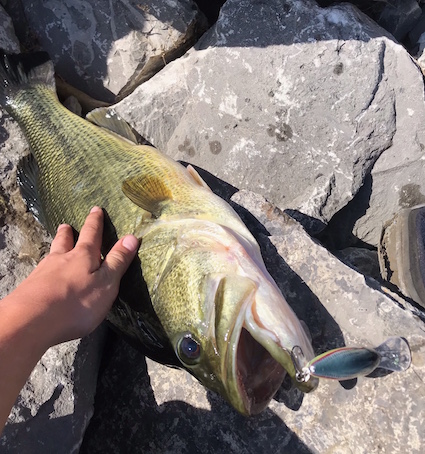 Jackson didn't weigh the fish because his scale was in his tackle box on the other side of a bridge. He didn't want the fish to die so he let it go back into the water.
Jackson was camping with his family over the weekend. He down to the lake with his brother Lucas, 16, while their parents packed up the camper. Jackson called his father on the ohone, and was out of breath.
"I feared something had happened I asked what is wrong," Justin Drees said. "He was able to gasp out, 'I just caught my personal best fish. Dad this is a monster, a dinosaur. It's mouth is as big as my head."
Jackson is an eighth-grader at Royalton-Hartland.  He plays JV baseball and modified football for Roy-Hart but his passion is fishing, his father said.
"He fishes every day," Mr. Drees said. "He takes a fishing pole to school with him every day and in the time after school before football practice, he walks over to the canal to get some casts in!"